Everywhere I look for an interpretation of Sidh Gosht I see the same English translation which I find confusing and which doesn't adequately get the message across. I thought it would be good to have a go at interpreting it with the SPN sangat to get a more in depth sense of what Guru Nanak Dev ji is telling us. It's written in a clever way with the Q&A but sometimes I struggle to know who is saying what! The conversation took place between Guru ji and a group of Sadhu's in the Himalaya's during Guru Ji's travels. He was quite young at the time so I think it was in his earlier travels. Q&A seems to suit our modern way of learning so that is why I'm especially drawn to this Bani.
Over the next few months I would love the SPN sangat to join me in looking at Sidh Gosht pauri by pauri then re-evaluating to get the bigger picture. Here I'll start off and would appreciate your thoughts so we can make sure our understanding is in the right direction and input as to how to implement the advice given would also be good.
I'm colour coding the posts. The bits I think are attributed to the Sidhs are in green and the line being said by Guru Nanak Dev ji are in blue for clarity. Please correct me if I have things the wrong way round.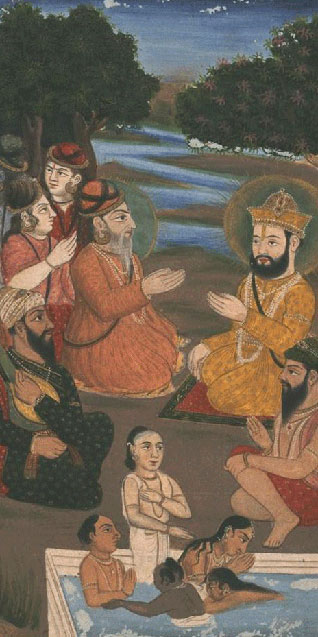 ਰਾਮਕਲੀ
ਮਹਲਾ
੧
ਸਿਧ
ਗੋਸਟਿ
raamkalee mehlaa 1 si
Dh
gosat
Raamkalee, First Mehl, Sidh Gosht ~ Conversations With The Siddhas:
ੴ
ਸਤਿਗੁਰ
ਪ੍ਰਸਾਦਿ
॥ ik-oNkaar sa
t
gur parsaa
d
.
One Universal Creator God. By The Grace Of The True Guru:
ਸਿਧਸਭਾਕਰਿਆਸਣਿਬੈਠੇਸੰਤਸਭਾਜੈਕਾਰੋ

॥[/FONT]siDh sabhaa kar aasan baithay sant sabhaa jaikaaro.[/FONT]
The Siddhas formed an assembly; sitting in their Yogic postures, they shouted, "Salute this gathering of Saints."
ਤਿਸੁਆਗੈਰਹਰਾਸਿਹਮਾਰੀਸਾਚਾਅਪਰਅਪਾਰੋ

॥
t
is aagai rahraas hamaaree saachaa apar apaaro.
I offer my greeting only to the One who is true, infinite and incomparably beautiful.
ਮਸਤਕੁਕਾਟਿਧਰੀਤਿਸੁਆਗੈਤਨੁਮਨੁਆਗੈਦੇਉ

॥mastak kaat Dharee tis aagai tan man aagai dayo.
I cut off my head, and offer it to God; I dedicate my body and mind to God.



ਨਾਨਕਸੰਤੁਮਿਲੈਸਚੁਪਾਈਐਸਹਜਭਾਇਜਸੁਲੇਉ

॥੧[/FONT]॥ naanak sant milai sach paa-ee-ai sahj bhaa-ay jas lay-o. ||1||
O Nanak, meeting with the THE "SAINT", Truth is obtained, and one is spontaneously blessed with distinction. ||1||
ਕਿਆਭਵੀਐਸਚਿਸੂਚਾਹੋਇ

॥ Kiaa Bhaveeai Sach Soochaa Hoe ||
What is the use of wandering around? Purity comes only through Truth.
ਸਾਚਸਬਦਬਿਨੁਮੁਕਤਿਨਕੋਇ

॥

੧॥ਰਹਾਉ

॥ Saach Sabadh Bin Mukath N Koe ||1||
Without the True Word of the Shabad, no one finds liberation. ||1||Pause||
Guru Nanak Dev ji is saying that God is the true saint (as differentiated by the spelling-one contains an aunkar, the other doesn't).
ਕਵਨਤੁਮੇਕਿਆਨਾਉਤੁਮਾਰਾਕਉਨੁਮਾਰਗੁਕਉਨੁਸੁਆਓ

॥ Kavan Thumae Kiaa Naao Thumaaraa Koun Maarag Koun Suaaou ||
"Who are you? What is your name? What is your path? What is your goal?
ਸਾਚੁਕਹਉਅਰਦਾਸਿਹਮਾਰੀਹਉਸੰਤਜਨਾਬਲਿਜਾਓ

॥ Saach Keho Aradhaas Hamaaree Ho Santh Janaa Bal Jaaou ||
I am always firm in my devotion to God. I do ardaas that I may remain a sacrifice to the tru saint (Waheguru). This is my truth. This is my path.
ਕਹਬੈਸਹੁਕਹਰਹੀਐਬਾਲੇਕਹਆਵਹੁਕਹਜਾਹੋ

॥ Keh Baisahu Keh Reheeai Baalae Keh Aavahu Keh Jaaho ||
Where is your seat? Where do you live, boy? Where did you come from, and where are you going?
ਨਾਨਕੁਬੋਲੈਸੁਣਿਬੈਰਾਗੀਕਿਆਤੁਮਾਰਾਰਾਹੋ

॥

੨

॥ Naanak Bolai Sun Bairaagee Kiaa Thumaaraa Raaho ||2||
Tell us, Nanak - the detached Siddhas wait to hear your reply. What is your path?""||2||
Notice the tone of the language used by the Sidhs. Boy is very condescending. The world still has this culture of looking down on young people as not being knowledgeable.
ਘਟਿਘਟਿਬੈਸਿਨਿਰੰਤਰਿਰਹੀਐਚਾਲਹਿਸਤਿਗੁਰਭਾਏ

॥ Ghatt Ghatt Bais Niranthar Reheeai Chaalehi Sathigur Bhaaeae ||
He dwells deep within the nucleus of each and every body. My home is constant remembrance of the almighty True Guru (Waheguru).
ਸਹਜੇਆਏਹੁਕਮਿਸਿਧਾਏਨਾਨਕਸਦਾਰਜਾਏ

॥ Sehajae Aaeae Hukam Sidhhaaeae Naanak Sadhaa Rajaaeae ||
We walk according to the Will of Akaal Purakh. We came into the world sleeping according to God and we travel through life according to God. I am Nanak, forever under the Command of His Will.
ਆਸਣਿਬੈਸਣਿਥਿਰੁਨਾਰਾਇਣੁਐਸੀਗੁਰਮਤਿਪਾਏ

॥ Aasan Baisan Thhir Naaraaein Aisee Guramath Paaeae ||
The true sitting yoga posture is keeping complete understanding inside always.
ਗੁਰਮੁਖਿਬੂਝੈਆਪੁਪਛਾਣੈਸਚੇਸਚਿਸਮਾਏ

॥

੩

॥ Guramukh Boojhai Aap Pashhaanai Sachae Sach Samaaeae ||3||
The Gurmukh recognises themself and merges with the true Guru, ie recognises the ego and is able to overcome it.
:whatzpointkudi::whatzpointsing::feedback: