Sword-wielding Sikhs clash at Golden Temple on Operation Bluestar anniversary; at least six injured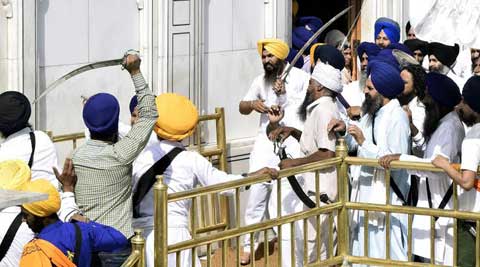 Sikh groups clashed inside Golden Temple on Friday. (Source: Express photo by Rana Simranjit Singh)
Violent clashes between Sikh radicals and members of Shiromani Gurdwara Parbandhak Committee Task Force (SGPC) at the highest temporal seat of Sikhs, inside the Golden Temple complex, marred the 30th anniversary of army operation Blue Star, which was carried out to flush out the Sikh militants from the shrine.
At least six persons including a police head constable were injured in the clashes, said Additional Deputy Commissioner of Police (Special) Harjit Singh Brar. As many as 21 persons were rounded up by the police, said Brar at the time of filing this report.
Unconfirmed reports said few more, including a minor and a woman, were also injured in the bloody clash following which tension continued to prevail inside Golden Temple for about two hours.
Trouble started when Shiromani Akali Dal (Amritsar) chief Simranjit Singh Mann demanded to address the gathering from the rostrum of Akal Takht, but was denied by SGPC officials. A separate mike was arranged for Mann by his supporters and Mann managed to deliver his speech near the Akal Takht before leaving. The function organised by SGPC to honour families of those killed in operation Blue Star ended, and Akal Takht chief Giani Gurbachan Singh had finished his address when the trouble started.
Later on, a group of radicals brandished swords amid pro-Khalistani slogans. They also resorted to sloganeering against the SGPC and demanded that Akal Takht Jathedar should step down.
The Sikh radicals then caught hold of and thrashed the SGPC man who had denied the public address system to Mann. His turban fell off in the melee. Scores of SGPC task force men reached there in no time and rescued their colleague.
Soon after, the radicals barged into the Akal Takht brandishing swords. A violent clash between them and the SGPC task force ensued with both groups attacking each other with swords and sticks. The radicals were then chased out from the Akal Takht. Panic spread among those inside Golden Temple as members of both groups were seen chasing and attacking each other outside Akal Takht.
The SGPC task force made a human wall around the Akal Takht entrance after locking the door. Tensions were high despite police, dressed in plain clothes, led by Brar tried to broker peace between the two warring groups.
The Akal Takht chief later called the violence a handiwork of "agencies". He added that the perpetrators behind the violence would be punished.
Heavy arrangements were made by police to maintain law and order in Amritsar. A bandh call given by the radical Sikh organisation Dal Khalsa to mark the 30th anniversary of operation Blue Star got good response as many shops and institutions remained shut.
http://indianexpress.com/article/in...den-temple-on-operation-bluestar-anniversary/