There is no mistaking the pride felt by Canadians historically regarding the sport of hockey. So often we describe the sport as part of our culture and through it, we learn any number of lessons meant to enrich the mind, body, and spirit. Of course, this phenomenon is not unique to Canada and hockey. A cursory glance around the world reveals many other countries and cultures with intimate ties to a sport. In Vancouver, we need not look far for one such example.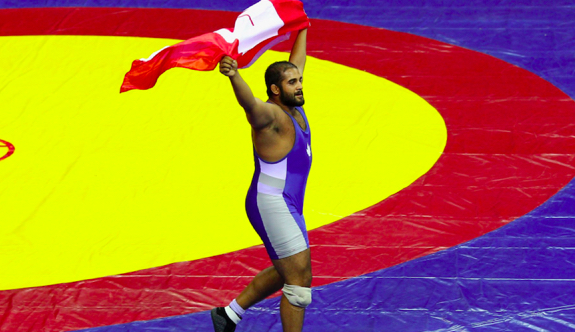 Arjan Bhullar, an Indo-Canadian wrestler from Vancouver of Sikh heritage, won a gold medal at the Commonwealth Games in 2010 and represented Canada at the 2012 Olympics in London. He excelled at an international level due in large part to how he learned the sport.
In Sikhism, wrestling is steeped in tradition and intertwined with the religion and the larger community.
Wrestling has been an integral part of Sikh culture since its beginnings. The founders of the religion practiced wrestling, even using it as a platform to promote health and wellness. Its other obvious practical use was hand-to-hand combat, something employed routinely by many Sikhs whether in opposition to oppressive rule, fending off invaders of the country of India, or competing in grand tournaments.
Culturally, wrestlers were seen as "superheroes" in the community.
"Wrestlers were given everything… gold, jewelry, and land", Bhullar says. "They didn't need to do anything else but compete in their matches."
Bhullar was taught wrestling by his own father, a former wrestling icon in India. Like the many facets of their religion, including kindness, respect, and peace, Arjan was taught grappling and technique at a young age. His first steps were in the basement of his childhood home on the wrestling mat floor.
The amount of pride felt by Bhullar regarding his religion and his sport is palpable.
"If you look at the values of the sport, of overcoming adversity, it's parallel to the story of Sikhism historically and our community here in Canada."
"People come over, they don't know the language, they don't have a dollar to their name, and look what we've been able to accomplish over one hundred years. Punjabi is the third official language in Parliament!"
On par with a foot race, there aren't many athletic competitions much simpler than a wrestling match. Bhullar calls it "human instinct". Physically and mentally overpower your opponent to win. There. Done.
However, in most cases, your combatant represents a challenge, something you wish to overcome. It's a useful metaphor for the many oppositions faced by the Sikh culture in the past.
The Indus Media Foundation, a registered non-profit society based in Langley, provides an excellent example of the pride felt by a nation, honouring the contributions made even before India gained independence. Another resource of pride is 100 Year Journey, a project turned book shedding light on some of the many South Asian pioneers that helped establish the rich culture now present in Canada.
One of those pioneers was Pal Dhaliwal, who immigrated to Canada in 1932. He was the first documented Sikh wrestler in British Columbia. He passed away at the age of 100 in January of last year.
As we turn to the present, the sport of wrestling in Sikh culture is still very important and based on the recent successes at the British Columbia Secondary School Wrestling Association Championships, the discipline among young Sikhs is alive and well.
In 17 male weight classes, 23 young men from the Sikh community had podium finishes. While only one female finished on the podium out of 12 weight classes
"There are no legends of champion wrestlers being women in India" said Bhullar, who stresses the emergence of women in the sport.
Until 2004, the Olympics did not include women's wrestling.
That being said, two young women are forging a path for young female wrestlers in the CIS ranks. Simon Fraser University's Nikkie Brar and University of Fraser Valley's Pravi Dhaliwal are among the first Sikh women to compete in post-secondary competitions.
While he respects and honours the tradition and history of wrestling, Bhullar appreciates the need to modernize wrestling and appropriate with the current landscape.
"The Pro Wrestling League in India is great for their wrestlers, offering a $3 million grand prize to the winning team" said Bhullar. "Just this year, a college match between Iowa and Oklahoma State was set in a football stadium which drew 40,000 spectators; and the NCAA National Championships were sold out for three days in Madison Square Garden."
For Bhullar, a natural move into Mixed Martial Arts is next.
Citing rule changes and regulations in Olympic competition, Bhullar said he was tired of feeling limited.
"I can't stand the rules right now, it's so restricting. I'm here to battle with a guy and you have all of these rules. This is wrestling. I don't want rules, that's why I'm in the sport!"
His efforts to move into the sport rely on experience and competition. He is a healthy 3-0 so far but needs more fights under his belt to move into a league similar to the UFC.
"MMA has been great for the sport of wrestling, allowing the sport to copy some of the promotion and marketing used for fighters, and their live events."
Clearly, Bhullar still has the desire to compete, a desire only matched by his drive to give back to his community.