Many hold that simply reading gurbani and not understanding a word is worthless. A while ago, I would have agreed that reading page after page without attempting to understand a word is a pointless task. But there is something to be gained through this practice.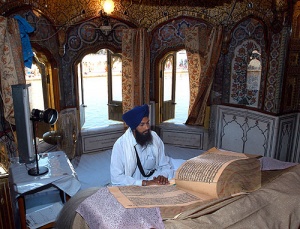 It is certainly beneficial to read and understand gurbani. There is no doubt about this. If one understands the Guru's message and puts it into practice, there is no match for this. The real problem is when one only reads for the sake of reading. I will call this shallow reading, as opposed to deep reading, which includes understanding.
What could it be for?
One may think that maybe it is a first step to connecting with gurbani. That you make a habit of simply reading then you go on to understand. I started that way myself. But this is irrelevant to those who are already connected and continue to practice shallow reading. I am referring to those who read 40 Jap ji's or 100 swaiyes... are they wasting their time?
It is also believed by some that reading gurbani like this will grant them superpowers, ridhiyan sidhiyan. I don't know about that... I don't think many here will take that seriously.
Anyways, I think there is value to be found in shallow readings... first, let's ask ourslves what is meditation?
There's a whole wealth of Meditation techniques from Zen meditation practices to Hindu dhyana to Sufi Islamic traditions. However, even though there are various different kinds of practices they are all developed on the principle of focusing on ONE thing. This is to train the mind to pay attention. The essence of all practices is to quiet down one's thoughts and take notice of our moment to moment experience. Notice how when something horrible happens, our brain goes nuts! All these random thoughts enter into our head, and cause suffering. Actually, horrible things need not happen. Our mind goes crazy and generates horrible thoughts even if we are in pleasant conditiones. Meditation aims to reduce those thoughts, to reduce fear and anxiety. What you are then left with are positive emotions of compassion and forgiveness. We suffer not because there are horrible events but because we have horrible thoughts. Queting these thoughts leads to a pleasant experience.
Meditation has been going on for a long time. People all over the world have wondered whether it was possible to be happy without the company of loved ones,without delicious foods, without drugs! There was a simple experiment people tried. They isolated themselves from these things, essentially from the world. In there isolation they uncovered the secrets of happiness. Later on these techniques became refined and strengthened to be applied while being in the world. One of these is known as the Discipline of Bhagati. We find Guru Sahibs advocating for these practices like Naam Simran and Seva (known holistically as Bhagati). These were powerful in social circumstances. But the principle even here was the same, to focus one's mind.
It is believed that seva in a gurughar is a purely physical task. Given how I have described meditation. It is not difficult to see how seva can be a spiritual task, there is a reason why it is included in Bhagati Yog. When you focus on the task in seva, when you focus all your attention to washing the dishes, handing out the food, making rotis even, then seva gains meditative value and thus spiritual value... that is if you can find a kitchen where the "gnanis" are quiet. Good luck with that!
Perhaps, now it is easy to see how doing shallow readings can have meditative value. If you focus your attention on the words, as you read them, and pay no attention to other thoughts, it becomes more akin to a meditation that we are already familiar with, Naam Japna. A practice has meditative value when it done to quiet one's thoughts, to bring home the wandering mind. naam Japna has meditative value because you focus on the sound of the word. Do you do that when you repeat the naam?
This reminds me of a Sakhi of Guru Nanak where he is invited to a Muslim prayer by these two muslims. Next day Guru Nanak goes over to their mosque. The prayers begin. While they follow their precribed way of praying. Guru Nanak simply stands there with his eyes closed. After the prayers are over those Muslims complain to Guru Nanak that he came but he did not pray. Guru Nanak turns this around and says "you guys invited me yet when prayers began none of you actually prayed, you were focused elsewhere. One was thinking about his business of horses and the other about his family."
Of course, many people don't do prayers in this way, including Sikhs (and of course, many don't read to understand). Even naam japna simply becomes a mindless repitition of words. The mind is left to wander and one constantly suffers. it's important to be mindFUL during meditation, to pay attention to the moment, to pay attention to the task/technique at hand.
What I am saying is that meditation is simply the focusing of one's mind on a task to quiet one's mind. If that is true then shallow readings CAN have meditative value. A sehaj paath that is not understood by the participants but is still listened to and focused upon, can be great for meditation.
Most Sikhs regard Idol worship as a useles ritual. The spirituality related to Hindu worship of idols becomes apparent when we consider the essence of meditation. I am not advocating for this practice nor do I mean to include it in the above mentioned Sikh practices. but it is important to note that if the mind of the idol worshipper is focused, then it has meditative value. Hence, God (happiness) CAN be found in a rock or shallow readings, if only you focus hard enough.