A simple diet, motivation and dedication have kept long-distance runner Ajit Singh, 80, on the right track for decades.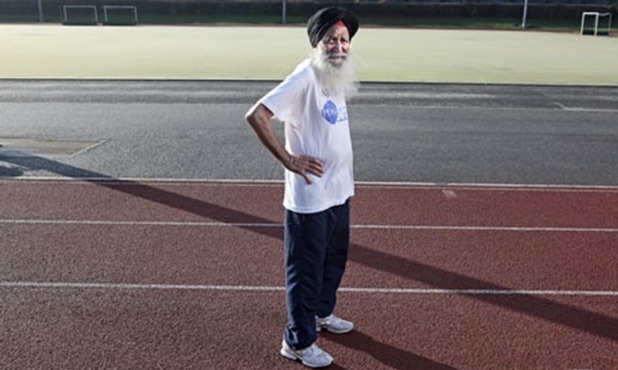 I am the longest standing member of my athletics club, the Longwood Harriers in Huddersfield, West Yorkshire. Nowadays, I train two to three times a week. I do fartlek and pyramid running and I sometimes go down to the track and run about 5km.
I'm also a member of Sikhs in the City – a running team that started about 10 years ago when Fauja Singh (who is now 99) started running to raise the profile of Sikhs in a wider context. We've taken part in races all over the world. We recently completed our annual relay race in Edinburgh. Our combined age was 340 years.
I was born in the Punjab in India. As a child, I would either cycle or run to school, 5 miles in both directions.
I came to the UK after my studies and started working as a teacher. A lot of the students and staff were into running, which got me interested in it too. I used to train two or three times a day, in the morning, then during school hours with the students, and then in the evenings too. It gave me such strength.
After I turned 40, I competed internationally in the veteran category. I continued to compete for 35 years, until I turned 75. In that time, I ran the London marathon about 20 times. I completed about 70,000 miles (about 2,000 miles per year) which is the equivalent of about three times the circumference of the earth.
Mental motivation is vital. You need to eat a simple diet in moderation, and you need to train regularly. Consistency is crucial. If you decide to start running, you need to stick at it. If you're patient, it will be extremely rewarding.
You'll soon see – after a run you feel so much better. After I've completed a run, I feel completely happy – I'm on top of the world. My health is good and I find that I'm always in a good mood.
Running
has given me all the energy I need to live a full and happy life.
http://www.theguardian.com/lifeandstyle/2011/jan/08/get-fit-free-long-distance-running