White House and Sikh Community Celebrate the Birth Anniversary of Guru Nanak Sahib Ji, Founder of the Sikh Faith
Washington, DC, USA:
The White House and the Sikh community celebrated the 540th Gurpurab (birth anniversary) of Guru Nanak Sahib Ji by holding a celestial musical performance yesterday. The White House Office of Public Engagement organized the event which was attended by Sikh organizations and leaders of the Sikh community from around the country. In her speech, Director of Office of Public Engagement, Christina M. Tchen congratulated the Sikh community on the birth anniversary of Guru Nanak Sahib Ji, and thanked both UNITED SIKHS and SCORE for their assistance in organizing the event. Following performances by religious musicians from Gurdwara Darbar Sahib, also known as Harmandir Sahib or the Golden Temple in Amritsar, India, and Sikh Dharma International, various Sikh leaders spoke about Guru Nanak Sahib Ji, and also about the issues of the Sikh community in America.
Harpreet Singh, Legal Director, UNITED SIKHS spoke at the event, stating, "The Sikh community remembers that Guru Nanak Sahib Ji's teachings emphasized speaking forcefully against social evils and injustices. It is pertinent that Sikhs follow Guru Sahib's teaching and speak out against civil, human and religious rights violations of Sikhs and others. Sikh Americans must be pro-active in advocating for their rights and press the government to address issues of employment discrimination, bullying in schools against Sikh children, hate and bias crimes, and religious and racial profiling at airports and borders. Finally, Sikhs must work together to be able to practice their faith freely and wear all five
kakaars
(articles of faith), including the
kirpan
(religious sword), at all times, whether in the military, law enforcement, at school, or at events like this one." We will be having meetings with high level administration officials regarding the
kirpan
in the weeks to come.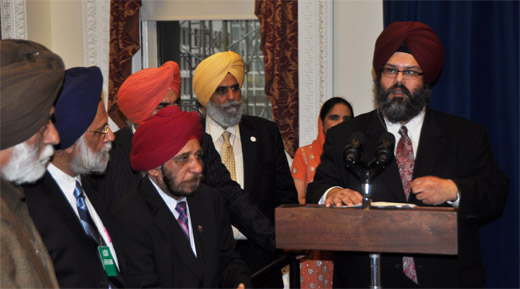 Harpreet Singh, Legal Director, UNITED SIKHS, congratulating the community on Guru Nanak Sahib Ji's Gurpurab, and reminding them of their duty to advocate for justice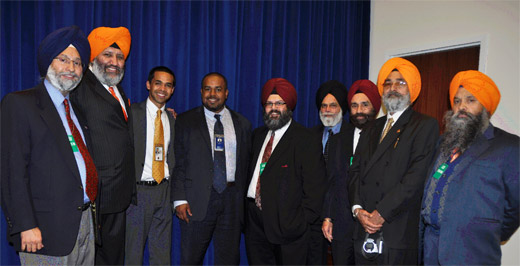 Sikh Community Leaders with Officials from the White House Office of Public Engagement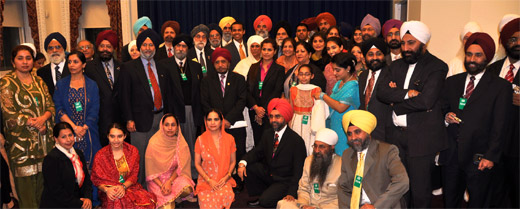 A diverse group of Sikh organizations and individuals attended the event, including but not limited to: Sikh Dharma International, SCORE, Sikh Coalition, Gurdwara Baba Makhan Shah, Sikh Cultural Society NY, and Sikh Youth of America
Ex-City Councilman Richmond, California and Executive Board Member of the California Democratic Party, Harpreet Singh Sandhu also spoke at the event, commenting, "we greatly appreciate the recognition of this important day where millions of Sikhs around the world celebrate the founding of the Sikh faith; it was pleasure to see officials speak so highly of the Sikh community and our identity."
Commenting on the event, Harbans Singh, a Sikh community leader from New York stated, "We appreciate the White House's outreach to the Sikh Americans and recognition of this important day for the Sikh community."
Gurdial Singh, President of Gurdwara Ravidass of New York, stated, "President Obama has brought new hope for the equal protection of civil liberties for all Americans, and we are thankful of his support for the Sikh community."
Again, we would to like to remind the Sikh Community that it is through overcoming our differences and working together that we will be able to overcome challenges to religious identity and our honorable way of life as prescribed by Guru Nanak Sahib Ji.
We thank all Sikh organizations and leaders for participating in this event, and extend our deepest gratitude to the White House for celebrating Guru Nanak Sahib Ji's 540th Gurpurab (birth anniversary); we especially thank Paul Monteiro, Associate Director of the Office of Public Engagement, for inviting a diverse group of organizations and individuals to the meeting.
Issued By:
Jaspreet Singh
Staff Attorney
UNITED SIKHS
law-usa@unitedsikhs.org
Forwarded by forum member Tejwant Singh ji Malik. A special note. you can see Yogi Bhajan's wife, Bibi Inderjit Kaur, in the bottom photo, tucked in the center of the photo, in a white turban, chunni and salwar.