ੴ / Ik▫oa'nkār
Writer
SPNer
The Royal Falcon Musical reviewed by Sonia Dhami
February 8th, 2012 | Published in
Featured
,
People & Events
by Sonia Dhami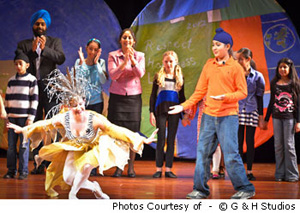 Click to Enlarge​


The Royal Falcon musical is an irresistibly cute but inspiring episode from the life of young Arjan and his magical meeting with "Khushi" the falcon of Guru Gobind Singh. All original songs are seamlessly woven throughout the story to bring in a depth of emotion that you wouldn't expect in a children's musical.
I walked into a theater filled to capacity with the friends and families of diverse ethnicities. Mohinder Singh Datta, a retired architect said, "I was so excited that such an event has been organized involving such young kids ranging from 7-15 years that I just had to be here, even if it meant driving 100 miles from the Central Valley". As they say "It takes one person to have a dream, but a community to make it happen."
To such a level of support the curtain rose on the stage to show an upset Arjan, played by Tegh Zoraver Singh, whose favorite pencil has gone missing. On his desktop is the portrait of Guru Gobind Singh with his falcon. Arjan shares an endearing relationship with the falcon, often talking to it, in the ways young boys do. And this night too Arjan turns to his trusted friend to share his turmoil and anxiety. The scene is reminiscent of Henry David Thoreau and his relationship with his falcon. But wait, tonight magic is in the air and to Arjan's amazement; the Royal Falcon comes alive, in the form of Khushi, played by the delightful Cara Kienitz.

Click to Enlarge​


Khushi learns of Arjan's problem and decides to takes him on a series of magical journeys which includes "dangerous time travel". It is here that the portrayal of Bhai Kanhayaji, the epitome of selfless seva (service) in Sikh history is seamlessly woven into the script with great finesse, delivering the message of "Na koi barie nahi beganna" (No one is an enemy no one is a stranger).These experiences transform Arjan from a rich and self centered boy to one with empathy and compassion, by giving him an opportunity to view his experiences from a different perspective.
This enchanting play is adapted from the book "The Royal Falcon" written by Jessi Kaur, a much loved Bay Area author. For Jessi, "the mission of the play is to create a platform to impart values of oneness, compassion and forgiveness in children". Sure, the production is by no means lavish or extravagant, but directors Tanna Herr & Tony Kienitz have infused a vibrant life into the screenplay.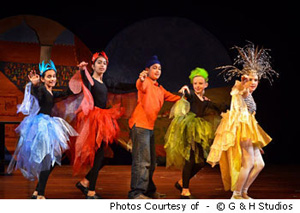 Click to Enlarge​


What is a musical without talking about the music? This one hour show has the kids dancing and thumping to musical scores set in jazz, rap and hip hop. The thoughtful lyrics are put to music by Manesh Judge and Mike Anand while the credits for the choreography are shared by Cara Kienitz and Reshma Singh. The appropriately placed background sound tract of Gurbani sublimes the audience and helps to drive the message deep into our hearts.
Sure, The Royal Falcon is a kid's musical that has fun costumes and cute lines that make audiences laugh out loud. Sure, it has fun, up-tempo, catchy tunes like "Compassion is the way" and "One large family" that you'll be humming long after you go home. But more importantly, The Royal Falcon Musical sets the mood and tone that touches your heart and connects with your soul to bring the message of Sikhi alive!


_______________________________________________________________
Poster's Note: Appears like great group of people making practical differences.