The Commonwealth Games needs its Tempest in a Turban
What has the Commonwealth Games become since the heady days of Daley Thompson, Ian Stewart and Milkha Singh?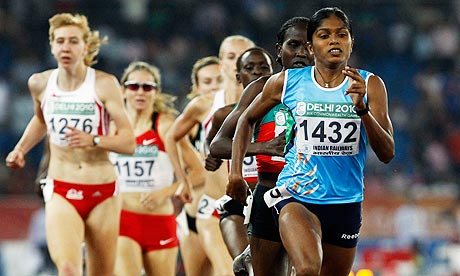 [/COLOR]
Tintu Luka's run in the women's 800m summed up the Delhi Games – earnest but irrelevant. Photograph: Anja Niedringhaus/AP
An Indian athlete in Wales was first to register in me a youthful awareness of the Commonwealth Games. Of course, it still cloaked itself in the grand imperial garb of Empire Games 52 years ago when only the sixth meet of the quadrennial series was held in the midsummer of 1958 at the old Arms Park in Cardiff.
All matters Empire were still loftily haughty, and snootily disdained was the metric measure of the Olympics. Serious business was still measured in feet, yards and inches. Thus it was in the classic 440 yards one-lap sprint in which, out of the blue and alongside the Taff, did the bearded, blistering Sikh, Milkha Singh, spread-eagle the field to have the next day's Daily Express eulogising "The Tempest in a Turban".
Two years later, Milkha was back in Britain to win the AAA's 440 yards title at White City as warm-up for the Rome Olympics, where he was fourth by a blink in an almost blanket finish in (still) the best-ever 400m final. The three medallists (an American, a German and a South African) were fractions ahead of him and the first two broke the world record. More than half a century later, it was terrific to catch a snatch of a BBC interview with him this Monday afternoon just before his young compatriot Tintu Luka failed in her brave but barmy frontrunning attempt to win the women's 800 metres final ("Alas for the bat out of hell", commiserated Denise Lewis).
As a teenager Milkha had lost his parents and three elder brothers in the horrors of 1947 partition but after Rome he was a permanent hero to Kashmir where, to encourage Indian athletes, he personally offered the equivalent in rupees of £3,000 to anyone who could break his Indian record of 45.73 seconds. It was all of 38 years till, in 1998, the Sikh policeman Paramjeet Singh claimed to have been 0.03 of a second faster at a local upcountry meet. Sensing the cop was planning to share the prize with the stopwatch timekeeper, old Milkha, apparently, flatly refused to pay up, saying he had stipulated his record had to be broken, as it had been achieved, on foreign soil.
When the Turbanned Tempest was triumphant at Cardiff in 1958, I was just over the border, a greenhorn cub covering ploughing matches and pony trials for the Hereford Times, and it was a long dozen years till my own debutant's dip into a Commonwealth Games press box where, by 1970 at Edinburgh, the Empire bit had been dropped and so had the imperial measurements.
We had piled into the grey old Caledonian city in July hotfoot and buzzing from June's World Cup in Mexico – Pelé, Jairzinho and all that joyous jazz. In the event, however, there was colourful enchantment enough to come and I've warmly hoarded ever since a vivid recall of what remains, all these 40 years on, still the most compelling championship footrace I've witnessed – the breathtaking 5,000m final when Scotland's 21-year‑old Ian Stewart blazingly held off his compatriot Ian McCafferty, with the two of them leaving stellar all-time champs Kip Keino and Ron Clarke in their slipstream.
Still the stuff of wonder.
With a purr of contented recall as well, I was still in bright-eyed salad days' form eight years on at the Commonwealth Games of Edmonton, first to lay eyes on the bonny smile of Tessa Sanderson and the immense natural promise of the kids Barry McGuigan, Steve Cram and the astonishing Daley Thompson.
Since those heady times, however, have these Commonwealth Games become increasingly pointless? Ersatz competition for second-raters, a pallid colonial salute to a nostalgic and faded past? BBC's broadcasting and its dreaded jingo-jangle – only events which include Brits are bothered with – can stretch only so far.
Delhi's appeal has been only in its smiles, its opportunities only for last-gasp deserving oldies or no-hope non-elite novices. Realists can sneer only at a low-grade feeder event that, in first division global terms in track and field, makes for very small beer indeed. The rot probably set in when crook megalomaniac Robert Maxwell was allowed to "save" – hilariously not as it turned out – Edinburgh's second and bankrupted rain-sodden Games of 1986.
How many more closing ceremonies will the Commonwealth Games celebrate after tomorrow's in Delhi? Edinburgh's neighbours Glasgow in four years' time will be hard pressed, I fancy, to redeem the whole jamboree's very
raison d'être
and existence.
http://www.guardian.co.uk/sport/blog/2010/oct/13/milkha-singh-commonwealth-games