The above is my speech at the Interfaith Thanksgiving event held at the Congregation Ner Tamid 55 N Valle Verde Dr, Henderson, Nevada 89074 on Sunday Nov, 22nd 2015
...
This wonderful day comes every year for our self-contemplation as individuals. THANKS a five letter word but it carries a lot of weight and leaves a huge impact on all of us for the rest of our lives. Thanks to this wonderful word, today we are all celebrating, Thanks-Giving Day . This day reminds us of what we are thankful for the times gone by and what lies ahead for all humanity that we should also be thankful for.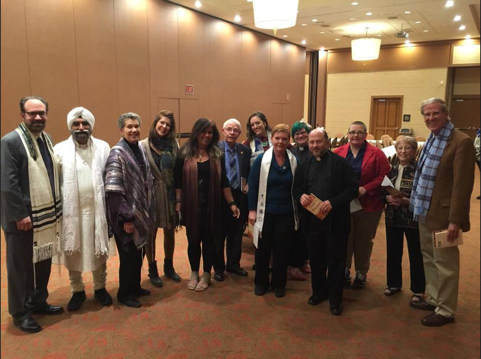 Just saying Thank you becomes a mere token of gratitude like opening a door for a lady for example.
But today's Thanksgiving is something special.
1. We are thankful for all those who survived the atrocities in Paris, Beirut, Nigeria, Kuwait and other places where all these atrocities have been taking place.
2. We are thankful to all those who helped the wounded and consoled them in all the cities in the world where barbarity showed its ugliest face.
3. We are thankful to all the religious charities working tirelessly together during the earthquake in Nepal, floods in England, in India by offering all kinds of needed help like offering hot meals, making shelters and digging potable water wells in other countries like Haiti, Malawi, Uganda and many others.
4. We are thankful for building a bread factory for the Yazidi Christians in Northern Iraq where 14,000 breads are being made daily for their basic sustenance.
5. We are thankful even for the atrocities committed by the few that have made this interfaith world more vibrant and united than ever.
6. We are thankful for the Parliament of World Religions held in SLC where we were able to meet soulful peoples from all different walks of their respective spiritual journeys.
7. We, as a Sikh Community are ever so thankful to all those who partook in our langar at SLC. This Langar was merely started by us but without the help of all of you, it would have been almost impossible to serve so many people with the smile.
Lastly, I would like you to all to stand up, hold hands of the people you are standing next to, and just give them a big hug with a huge THANK YOU.
Thanks
Teji Malik