Sufi saints' shrines in many police stations
Shariq Majeed
Tribune News Service
​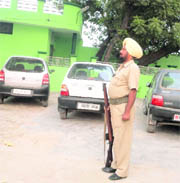 A policeman stands guard in
the police station complex at Dirba
which has a shrine located in it . Photo by writer
​
Dirba (Sangrur), November 20
There are shrines of Sufi saints in many police stations in the district that bespeak of the fact that Sufism has penetrated deep into the multi-cultural and multi-religious society of the state.
The police stations of Dirba and Amargarh have shrines in their complexes whereas the Moonak police station was once housed in old buildings having a Sufi shrine. The Lalan Wala Pir shrine is housed in the Dirba police station, Pir Baba is housed in Amargarh police station complex whereas the Thanewala Pir shrine is housed in the old building that once housed the Moonak police station.
The Sufi shrine of Pir Baba Abdullah Shah Ji is housed in the Maharaja Ranjeet Singh Punjab Police Academy, Phillaur, near Ludhiana.
Policemen offer prayers at these shrines insaide the police stations every morning to seek the blessings of the great Sufi souls.
"Every morning before I assume duty, I bow my head before the Sufi saint whose shrine is housed in our police station. I also pray for peace and tranquility in the area under my responsibility," said Inspector Gurdev Singh Dhaliwal, SHO of Dirba police station. "Not only policemen, but local people, too, have great respect for the Sufi saint and come here to offer prayers on every Thursday."
Parminder Singh Dhindsa, PWD Minister who belongs to Sangrur district, told The Tribune that Punjab had a tolerant culture and they respected great people of various religious ideologies. "Punjab has been the seat to launching of various religious movements, including Sufi, Bhakti and Sikh movements. No wonder there are some police stations which have Sufi shrines."
source:
http://www.tribuneindia.com/2010/20101121/punjab.htm#9