BELLINGHAM — For at least one day, people not wearing a turban were the minority in the student center at Whatcom Community College.
On Tuesday, March 10, the college held a Turban Awareness Day in the Syre Student Center on campus. The event attracted community members and students who wanted to learn about, and try wearing, turbans.
Many people attending the event were part of the Sikh faith. Others waited in line so that people from the Sikh Motorcycle Club from Surrey, B.C. could tie turbans on their heads.
Sikhism is a monotheistic religion that originated in the Punjab region of northern India. Most Sikh men and many Sikh women wear turbans.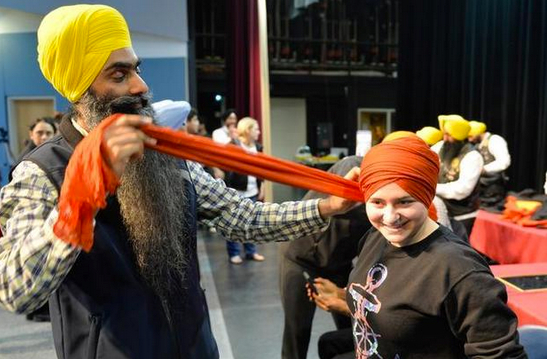 The process of tying a turban took longer than many thought it would. The person's hair is usually tied in a bun, which is then covered with a cloth to keep the hair in place. Another cloth, usually 15- to 30-feet long, is then skillfully wrapped around the head into a turban.
The process can take half an hour for people less experienced in tying turbans. For others, like student Sukhdip Singh, it takes only a couple minutes. He ties his turban twice a day.
Singh organized the event in an effort to quash the misconception he says many people still have that a person wearing a turban is potentially a terrorist. Singh escaped that kind of prejudice in Greece and has wanted to organize a Turban Awareness Day ever since he joined the student government at Whatcom Community College.
He said there is a high population of Sikhs living in Whatcom County, and they are often looked at differently because of their turbans.
"I think that's why we're having this event, so that we can drive out the ignorance and educate people that a turban is just a cultural thing," Singh said. "I have had this dream for over a year."
Jesse Brisbois, a freshman at Whatcom Community College, said she has friends from Saudi Arabia who wear turbans. She supported the event Tuesday because she thinks people still misunderstand them.
"I think it's really great to have these days and show people that it's something to be celebrated," Brisbois said.
After the turbans were tied, Balraj Singh, a Sikh, gave a presentation that explained how there are several kinds of turbans coming from different cultures, including ones worn by Muslims, Afghans and Iranians. He said most people wearing a turban in the U.S. are Sikh.
The presentation pointed to incidents in the last decade that demonstrate prejudice against people wearing a turban, including a 2012 shooting at a Sikh temple in Oak Creek, Wisconsin, that killed six people.
When the presentation finished, more people had turbans tied on their heads.
As Sukhdip Singh looked around the room with the majority of the crowd wearing a turban, he couldn't help but be pleased.
"I am really, really happy because when people are everywhere with their turbans, it's so accepting and it celebrates our differences," he said.