http://www.dailymail.co.uk/news/article-497453/Sikh-student-jailed-stabbing-pregnant-Muslim-love-rival.html





Sikh student jailed for stabbing of pregnant Muslim love rival
By JAMES TOZER
Last updated at 00:14 30 November 2007
Mindy Sanghera, a 23-year-old Sikh, was destined for a high-flying dentistry career after a string of top exam grades when she fell in love with playboy businessman Sair Ali, a Muslim.
But when she found out he had secretly gone through with an arranged marriage to his teenage cousin, Sana Ali, and that she was pregnant, she became consumed with jealousy and decided to eliminate the woman standing between them.
Scroll down for more...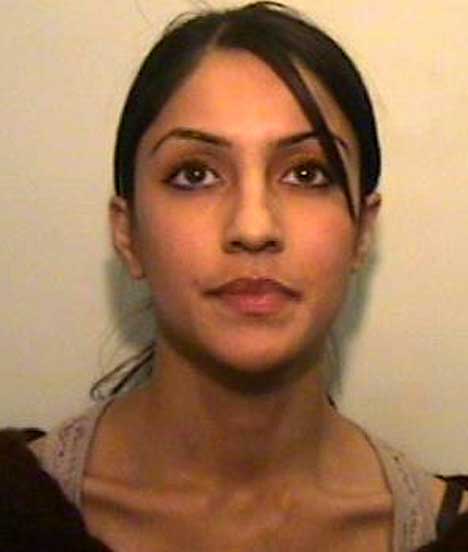 Harmohinder Sanghera: Will have to serve at least 14 years of her life sentence
After writing hysterical letters in which she questioned whether she was turning into "a psycho", she waited until Mr Ali was out at Friday prayers, went round to confront 17-year-old Sana, and stabbed her more than 40 times.
In a horrifyingly brutal climax she then lifted the 11-weeks pregnant teenager's top and plunged the knife deep into her belly.
Yesterday Sanghera was found guilty of murder and jailed for life with a minimum term of 14 years.
The frenzied stabbing of a shy, innocent teenager while she carried an unborn child horrified millions, but detectives soon discovered she was the unwitting victim of an inter-religious love triangle that would scandalise two communities.
Mr Ali, whose family live in a large, detached house on the outskirts of Bury, Greater Manchester, had been betrothed to Sana, his first cousin, since she was nine.
Scroll down for more...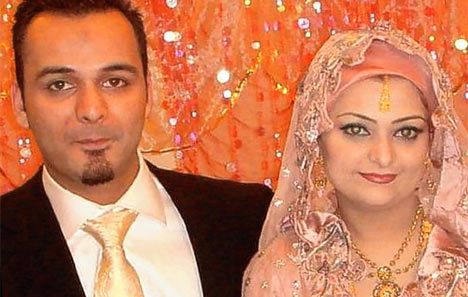 Doomed marriage: Sair and his cousin Sana on their wedding day
But while she received a traditional, Muslim upbringing in Pakistan, back in Britain her future husband, now 25, was enjoying himself, conducting secret affairs and frequenting nightclubs.
Among his lovers was Harmohinder Kaur Sanghera, known as Mindy, a pretty Sikh student who had caught his eye after they were introduced by friends in 2005.
She is the youngest daughter of a respected Punjabi couple living in a £400,000 house in Solihull in the West Midlands.
Her father Gurnek is thought to be a manager for Royal Mail while her mother Satinder works at Marks & Spencer.
Mindy was destined for a career in medicine after achieving straight As at King Edward the Sixth Grammar School.
At the time of the killing she was approaching the end of a course at Birmingham University's School of Dentistry and had a posting lined up at one of the city's top practices.
Scroll down for more...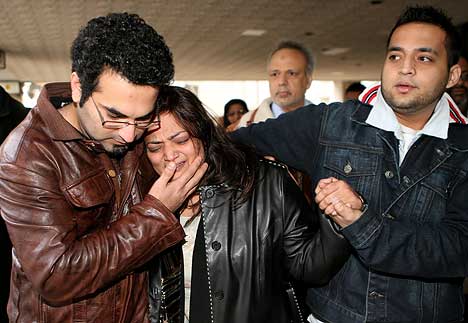 Devastated: Sana's mother Maryam Fatima and family
She and Mr Ali, who ran his own mobile phone business, conducted their affair in £135-a-night rooms at a four-star hotel to keep it secret from their families.
By last year she was besotted with him, saying she wanted to marry him and have children together.
He told her they could never marry because his parents would never accept a Sikh daughter-in-law.
Sanghera, however, was convinced her future lay with him, and talked of converting to Islam.
Westernised and previously not particularly religious, she started to abstain from alcohol, began wearing a headscarf and eating halal food.
With Sana about to turn 17, preparations were in hand for an elaborate wedding ceremony back in Pakistan, after which she joined her husband at the family home in Bury.
Slight and shy, Sana rarely ventured outside, and friends said her only interests were cooking and cleaning.
According to her mother, Maryam Fatima, she was lonely and disappointed in her new life with her Westernised husband, who stayed out late and had little in common with her.
Mr Ali had failed to consummate the marriage on their wedding night, and he admitted he would take Viagra before having sex with her, but by the spring of this year it was announced that she was pregnant.
It ought to have been the signal to his mistress that they had no future together, but by now she was beyond reason.
Sanghera would light candle after candle when he was away, never letting the flame die out, demanded that he phone her and speak to her until she fell asleep, and wrote to him saying she wanted to be his "golden girl".
At other times she would make abusive comments about Sana or demand to know whether they had had sex the night before.
In one of her letters to him she wrote: "I think I am going crazy. I thought I could handle it and deal with cutting contact with you but I can't.
"Maybe I am a psycho, crazy, or just a fool, or maybe all of thosethings."
Rather than cut off contact altogether, Mr Ali agreed to keep seeing her until after her exams that summer, and they secretly entered a temporary Islamic marriage.
Then finally, in the words of prosecutor Peter Wright QC, in her "jealousy and desperation" and frustration at her predicament, "she allowed all reason and good sense to desert her".
They spoke by phone on the evening of Thursday, May 10, discussing going away together that weekend.
The following day, with Mr Ali at mosque and his teenage brother at college, Sanghera drove to Bury.
After duping the teenager to let her in, she went with Sana to the couple's bedroom, produced a six-and-a-half inch kitchen knife, and stabbed her 42 times.
Before fleeing, she plunged the blade into her belly.
The baby, a boy who was to have been named Abdul, would have been due last week.
Sanghera then calmly spoke to Mr Ali on the phone before returning home, leaving his sister to discover the horrific scene.
Sanghera admitted visiting Sana but claimed she had left her alive and well, and at her trial the defence suggested Mr Ali had killed her.
She looked shocked as she was found guilty of murder at Manchester Crown Court, struggling to keep her composure and fighting back tears as the sentence was announced.
In a statement to court, Sana's husband ? whose behaviour was branded "weak-willed and reprehensible" at the trial ? said he felt "indescribable" emptiness since her death.
Sana's mother said the family had finally secured justice.
"Sana will be happy today," said Mrs Fatima.