Many not aware of Sikh community's contributions to Canada
Jarnail Panesar came to Canada in 1966 with one bag slung over his shoulder and $50 in his pocket. Two years later, Panesar settled in Oakville, becoming one of the town's first Sikh residents. Little did he know that he was blazing a trail for thousands of other Sikh immigrants, who were also looking for a peaceful place to put down roots.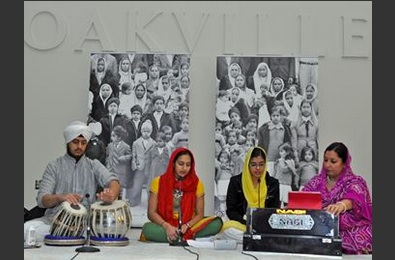 Sukhmeet Singh, Simrat Kaur, Ragini Singh and Ramneek Singh performed a traditional hymn generally sung to inspire soldiers before battle during a celebration to commemorate Ontario's Sikh Heritage Month at Town Hall last week.
"As far as opportunity is concerned, as far as acceptance in the community by our neighbours, I have no question, everyone has been superb," said the 74-year-old, reflecting on nearly 50 years in Oakville.
April is an important month for Sikhs around the world. It's when Sikhs celebrate Vaisakhi, which fell on April 14 this year. This festival marks the founding of the Sikh community and its articles of faith.
In Ontario, April is also Sikh Heritage Month and to celebrate, the Halton Sikh Cultural Association held a public reception April 8 at Oakville's Town Hall.
The event, titled The Oakville Sikh Journey: 1967 to Present, attracted nearly 200 people and featured a panel discussion with Oakville's first Sikh settlers, awards recognizing local Sikh talent and guest speakers.
"Sikh Canadians have lived in Oakville since 1967 and they represent a growing and dynamic population," said Pav Khalon, co-organizer and host of the event. "They have made significant contributions to the growth and prosperity of Oakville."
One of those contributors is Gurcharan Singh Bajwa, who was called to the stage to accept the Business Excellence Certificate.
Bajwa has lived in Oakville since 1980 and established his business here in 1993. Accu Electric Motors specializes in repairing servomotors and drives and has become one of the leading companies in its field.
Now, Bajwa is planning his retirement and handing his business over to the next generation — his son and his nephew.
"It's my time to enjoy now," Bajwa said smiling.
Charanjit Singh was awarded the Certificate of Excellence for his contributions to Oakville athletics and his work mentoring student athletes.
Singh said he has seen a lot of changes in the 15 years he has lived in Oakville. Changes not only in the physical landscape, but also in the cultural landscape.
"We are here today because our small Sikh community persevered against obstacles and challenges," Singh said. "We are here because the hard work and determination we put in has now woven our faith-based values into the fabric of this wonderful town.
"Finally, we are here because the town of Oakville is a progressive place that appreciates and acknowledges the contributions of its diverse Sikh residents."
The reception was held in conjunction with a Sikh heritage exhibit already on displayed at Town Hall. It runs until today (Friday). The exhibit presented by the Sikh Heritage Museum of Canada features photographs of Sikh men and women throughout Canadian history.
Pardeep Singh Nagra, executive director at the Sikh Heritage Museum of Canada, pointed out many Canadians aren't aware of the impact Sikh Canadians have had in building this country.
"We're a pioneer community here in Canada," Nagra said. "We worked on the railroads, we worked in lumber mills, we owned lumber mills and yet in our history books, you've probably never seen a Canadian pioneer with a turban."
In the First World War, 10 Sikh men from Ontario, Manitoba and British Columbia volunteered to fight for Canada, a country that denied them citizenship.
"Although these Sikh soldiers faced much criticism and prejudice, not even becoming citizens, it was the principles of Sikhism that led them to fight for justice and equality for all citizens across the world," said Khalon.
Mayor Rob Burton said he hopes everyone in Oakville takes the time to see what he called "an eye-opening exhibit."
"Any time the community learns about its nature and learns who is part of it and enlarges its knowledge of itself, a community grows stronger," said Burton.
"Truly, in Oakville, we have very little if any division on ethnic basis and that's one of the things that makes us Canada's most liveable town, one of the things I'm most proud of," he added.
Halton MPP Indira Naidoo-Harris said there are more 200,000 members of the Sikh community who call Ontario home and through their hard work have contributed to the growth, strength and prosperity of the province.
Naidoo-Harris said celebrations, like Sikh Heritage Month, when we acknowledge cultures and religious beliefs, makes our society richer.
"Our Halton community is built on acceptance, diversity and understanding," she said, "and that moves us all forward and our children forward to building a stronger future for everyone."