SGPC TO RUN ANTI-DRUGS DRIVE FROM MARCH 20 TO 31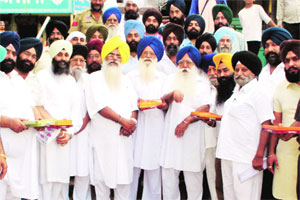 Amritsar, Punjab
: Shiromani Gurdwara Parbandhak Committee (SGPC) will organise a campaign against narcotics and drugs from March 20 to July 31, during which it will reach out to drug addicts across the state so as to bring them back into the mainstream.
The campaign titled 'Nasha Mukt Lehar' will be launched by SGPC chief Avtar Singh Makkar from Fatehgarh Sahib on March 20.
Giving details about the drive, Satbir Singh, secretary, 'Dharam Prachar Committee' of the SGPC, stated here on Wednesday that a list of SGPC employees, who will be part of this campaign, has been already been prepared. These will include 'pracharaks' (preachers), whose aim would be to use the "power of gurbani" to wean addicts away from drugs.
Fifty villages in each SGPC constituency have already been selected for the drive against drugs.
It will be the duty of the SGPC teams to identify or pick out at least 15 addicts in each of the targeted villages. The profile of each addict will be prepared including his or her economic status, educational level and family background.
Source:Hindustan Times
http://sikhsangat.org/2014/sgpc-to-run-anti-drugs-drive-from-march-20-to-31/
Side Note
: I think this is a good drive since elections are coming soon and drugs are being distributed in Punjab as we speak. Parchar is a good tactic and hopefully it works out as planned. May those Singhs and Kaurs leave the drugs behind and restore their faith in Guru ji.