The first Sikh man to enlist with the Canadian army fought in the First World War and left behind a proud legacy for his Sikh community, but his contribution was in danger of being forgotten until a historian stumbled on his medals in a pawn shop.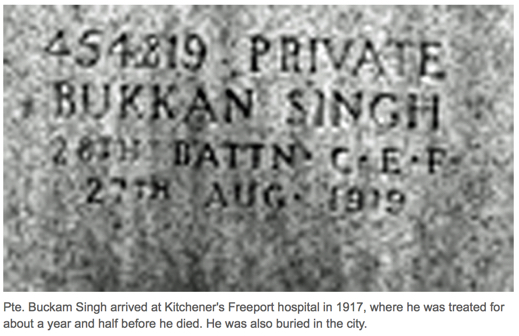 Pte. Bukkan Singh is not as well known in Waterloo Region as Lt.-Col. John McCrae of Guelph, Ont., the writer of the famous poem
In Flanders Fields
, but that's not for Singh's lack of merit or contribution.
Canadian historian Sandeep Singh Brar
told CBC Radio's
The Morning Edition
host Craig Norris Wednesday morning he only discovered the soldier when he found Singh's war medals in a British pawn shop and then went on to locate his grave in a Kitchener, Ont., cemetery.
"That grave...is the only military grave in all of Canada of a Sikh soldier," Brar said. "It's important because it shows that our military history as a country is a collective history of contributions for a lot of different ethnic groups and people from diverse backgrounds and religions. And this really makes that come alive for the Sikh community."
There's special attention being paid to the role Sikhs have played in the Canadian Armed Forces this year as the country's new Defence Minister Harjit Sajjan, is Sikh and his appointment to cabinet garnered worldwide attention. Sajjan was the first Sikh to command a Canadian army regiment and served three tours in Afghanistan, and one in Bosnia.
Like Sajjan, Singh was born in Punjab, India, before moving to Canada. Singh was born in 1893 and arrived in Canada in 1907. He lived in B.C. for a few years before working on a farm in Pickering, Ont.
"He's actually one of the earliest documented Sikhs in Ontario at the time," the historian said.
Singh wounded twice
Despite the army's resistance in allowing Sikhs to join up, nine of them managed to do so, one of whom was Singh, who became a part of a battalion from Kingston, Ont.
Singh served overseas in France and Belgium and was wounded twice in two different battles, according to Brar. And in fact, Singh was treated in a field hospital run by McCrae, the
In Flanders Fields
author, who was a doctor with the Canadian army.
While recovering in hospital from his second injury after being shot, Singh contracted tuberculosis and "spent about a year and a half in various hospitals" in England before being brought back to Canada.
"The Freeport hospital in Kitchener was a military hospital, so they brought him there in 1917 and he spent about a year and a half in the Kitchener hospital," Brar said. "Then he died."
'In many ways, he died alone'
The historian noted the lack of Sikhs in Eastern Canada meant there would not have been any kind of religious ceremony at his funeral and his family was on the other side of the planet.
"In many ways, he died alone," Brar noted, adding he considers himself grateful for stumbling across this incredibly Canadian story.
If he had never spotted those medals and came across that grave, Singh's untold story would remain just that — untold. But Brar understands the importance of this soldier's life for the Sikh community, Canadian soldiers and the diverse stories that make up Canada.
"Eight years ago, we had a small prayer service at his grave site [on] Remembrance Day and we had one Canadian Forces soldier attend the ceremony and then after that it's just grown to the largest annual gathering of serving Sikh soldiers in the Canadian military, annually, and our ceremony has grown to over 300 people," Brar said.
"And it's not just the Sikh community. We're trying to remember Canada's contribution and those soldiers who never came home to their families irrespective of their backgrounds. It's just that that grave serves as an emotional focal point for our yearly remembrance ceremony."
On Remembrance Day, Canadians from coast to coast will be taking a moment to remember all those who fought and died for our country. And you can count some to especially remember the Sikh soldier whose legacy lives on in Kitchener.