Pakistan on Fire and Its Effects on India

Dr Dalvinder Singh Grewal

Prof Emeritus Desh Bhagat University​
After the arrest of Pakistan's previous PM Imran Khan, his party PTI workers torched important buildings in Pakistan. These included the residence of Corpse Commander in Lahore, Army Hqs, Pakistan PM Shehbaz Sharif's Model Town Lahore residence the ruling PML-N Secretariat in Model Town, 14 government installations/buildings including Pakistan Radio building, and 21 police vehicles in Punjab during the last two days. Fires could be seen in other major cities of Pakistan. The Pakistan Army has been deployed to control the situation. PTI has claimed 4 of their dead in Pak Army/police firing.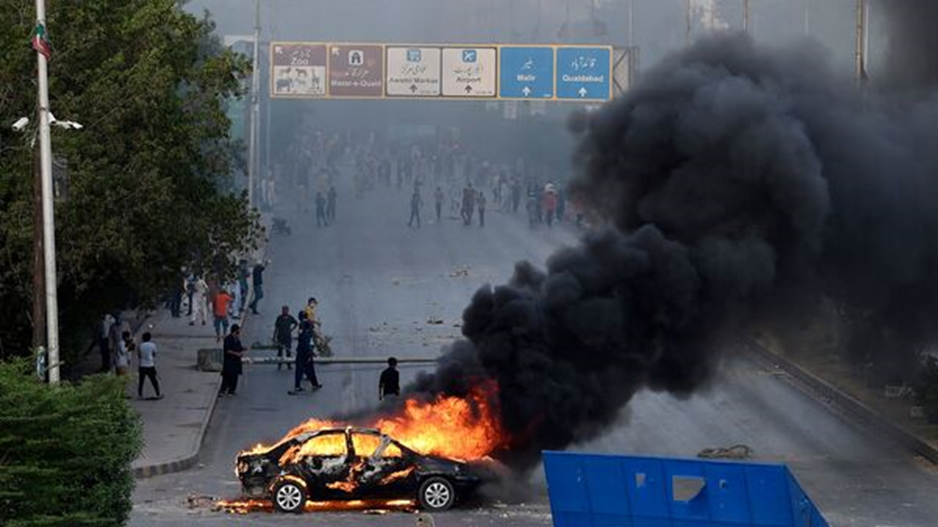 According to police, over 500 miscreants from Pakistan Tehreek-e-Insaf (PTI) party reached the Model Town Lahore residence of the prime minister in the early hours of Wednesday and set ablaze vehicles parked over there. "They also threw petrol bombs inside the premiere's house," a senior police officer of Punjab police told PTI on Wednesday.
The police official said only the guards were present at the prime minister's house when the miscreants attacked. They also set on fire a police post there. "As a heavy contingent of police reached there, the PTI protesters left," he said. Before reaching the prime minister's residence, the mob attacked the ruling PML-N Secretariat in Model Town, torching the vehicles parked over there. They also put the barriers there on fire. On Tuesday, the protesters had set ablaze the Corps Commander House in Lahore after ransacking it.
Pakistan's former premier Imran Khan was arrested from the Islamabad high court complex in a dramatic operation involving paramilitary personnel on Tuesday in a haphazard manner. Violent clashes between Imran Khan's supporters and security forces started immediately which have left at least seven people dead and nearly 300 injured across Pakistan as the army was deployed in the country's capital Islamabad, as well as in Punjab, Khyber Pakhtunkhwa and Balochistan provinces on Wednesday to maintain law and order. The ham-handed arrest of Imran Khan from the premises of the Islamabad High Court Tuesday afternoon may only serve to enhance his status among his followers as a fighter for a democratic Pakistan. That, in turn, means there are no easy exits from this spiralling new crisis for any of the key actors in this saga.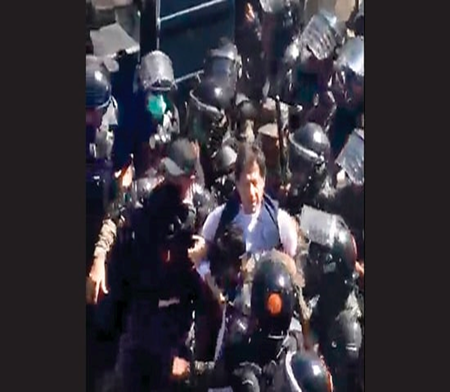 The former Prime Minister's arrest is seen as an action not by the civilian government of Prime Minister Shehbaz Sharif but of the Pakistan Army. The powerful military, which has ruled Pakistan for half of its history, has grown increasingly wary of Khan's levelling of allegations against top serving and retired officials as part of his campaign against the PDM government. The people said some within the military perceived Khan's actions as an attempt to engineer a split within the army, especially in view of the support for the PTI in some quarters.
Pakistan thus is in a serious turmoil. The situation in Lahore and several other cities of Punjab remained tense on Wednesday in the wake of the arrest and 8 days remand of PTI chief and former premier Imran Khan by the National Accountability Bureau (NAB) in a land transfer corruption case.
Pakistan's multiple crises are worsening by the day. On the internal security front, the Tehreek-e-Taliban Pakistan (TTP), which pulled out of the ceasefire with the government late last year, has escalated attacks on civilians and security forces. The situation in Khyber Pakhtunkhwa and Balochistan provinces is dire. Meanwhile, relations with the Taliban regime continue to fray; Afghanistan's new rulers, once proteges of Pakistan's ISI, are refusing to toe Pakistan's line and have shown no inclination to rein in the TTP or oust it from its sanctuaries on Afghan soil
Meanwhile, the Pakistani economy is in a state of free fall. Forex reserves are haemorrhaging; they dropped to a meagre $3.68 billion on January 20. Early this week, Pakistani cities reeled under a nationwide power outage, paralysing daily life and and shutting down an already-sick economy. Amid the crises, Pakistan's Prime Minister Shehbaz Sharif expressed interest in "serious and sincere talks" with India last week. Pounded by pressure on multiple fronts, Sharif is likely seeing the wisdom in making peace with India. However, the statement of Pakistan Foreign Minister Bilawal Bhutto at the SCO meeting has further worsened the relations making India to say that a victim cannot sit with the oppressor to have talks at equal terms, hence ruling out any one-to-one talk.
Under the new situation following may happen. 1. Pakistan may declare Marshal Law or Army may take over. 2. The USA and China may intervene to make peace between both parties; getting Imran released and elections to be held. 3. IMF may pressurise under the down gradation threat to Pakistan Government for reconciliation with Imran Khan and to stabilise the situation 4. Pakistan Army may open a war front with India to draw attention from internal pressures.
Declaring Marshal Law appears to have the most probability. The dialogue process between the two parties may not materialise so easily. Army may try to open up a new front along the LoC by blaming Indian forces or other means to relieve the pressure from internal factors. India is watching the situation seriously. Till now, the Pakistani troops had not cut down any numbers from forward locations with India but the situation may get clearer later. While India has been on high vigil to stop Pakistani infiltration already, the situation across the border has become tense over Imran Khan's arrest and fears still exist that Pakistan Army may try something drastic to maintain supremacy in Pakistan.