Jaswant Singh likens BJP to Ku Klux Klan
August 26, 2009 19:53 IST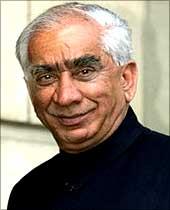 Expelled Bharatiya Janata Party [ Images ] leader Jaswant Singh [ Images ] took his attack on the party to a new level by likening it to the violent white American group Ku Klux Klan and by suggesting that its former president L K Advani [ Images ] was surrounded by a coterie.
Singh's wounds still seem to be sore as the former external affairs minister evaded questions on his unceremonious expulsion a week ago.
"Please don't ask me. I am outside the magic circle of advisers or thinkers. Because I am not from the Rashtriya Swayamsevak Sangh, is that the reason? So are we a political party? Is the BJP turning into some kind of an Indian version of Ku Klux Klan?" he shot back.
KKK, widely known as The Klan, is the common name given to several past and present hate group organisations in the US whose aim was to protect and further the rights of white Americans by intimidation.
When asked to clarify on his reference to KKK, he said: "You know what the Klan means. You don't ask me about this."
Though expelled, Singh refused to comment on Advani's rejection as a prime ministerial candidate in the Lok Sabha polls saying it was for the BJP veteran to reflect on this.
"It would be impertinent and perhaps, to a degree, I would be commenting on my past 30 years' connection with him if I commented on his characteristics, political or personal," he said.
Asked if Advani was surrounded by a coterie, Singh said: "Does he run a coterie or does the coterie run him?"
Singh -- who did not share a warm relationship with the RSS -- said the BJP should reflect on its relationship with the Sangh and should be "mature enough to cut the umbilical cord".
"If they want for gain their full personality as a political organisation, they should stand on their own feet, I feel," he said.
He did not agree with BJP leader Arun Shourie's suggestion that the RSS should take over the party.
"I would like the BJP to reflect on what has happened and try to be a party of the 21st century. They (RSS) are exclusivist. Besides, they are an organisation committed to social work," he said.
Singh said he was still not able to understand why he was expelled and accused the party of adopting "double standards", as Advani had done "exactly the same" in 2005 but was not targeted.
© Copyright 2009 PTI. All rights reserved. Republication or redistribution of PTI content, including by framing or similar means, is expressly prohibited without the prior written consent.
satnam46 ji I hav edited out all links to the external web site to tidy up the post. Thinks like the email link to the newspaper. Hope you don't mind. It helps keep SPN members protected from any browser hijckers pop ups and malware that are connected to some external sies. Thanks, Narayanjot Kaur