KOKO NOR LAKE-
PROBABLE PLACE OF GURU NANAK'S VISIT
Dr Dalvinder Singh Grewal


Koko Nor is a lake in Tibet, 100° E. and 37° N. It lies 9,975 feet above the level of the sea. Its very salt waters, exquisitely blue in color, cover 66 miles by 40. [1] It is sandwiched between Hainan and Haibei Tibetan Autonomous Prefectures in northeastern Qinghai. Recently the name of the lake is changed to Qinghai.
Kokonor in Mongolian and Tso Ngon Po in Tibetan literally mean Blue lake, and it gives Tso Ngon (Qinghai) as the name of the province. It is the largest saline lake in China and the wide-open shores of this saline lake provided rich pastures for both Tibetan and Mongol nomads. The lake is located at a height of 3190m and at a distance of 100km from Xining, the capital of Qinghai province in a depression of Qilain Mountains in the Tibetan Plateau.[2] The Koko nor Lake has a surface area of 4,317 square km; an average depth of 21m, and a maximum depth of 25.5m as measured in 2008.[3] Twenty-three rivers and streams empty into Qinghai Lake, most of them seasonal. Five permanent streams provide 80% of total influx.[4] It contains five islands, one with a Buddhist monastery. In the west it receives the waters of the river Buhaingol. In the south it is bordered by the southern part of the Kokonor Mountains (10,000 feet). It is very rich in fish, in spite of the fact that its surface is frequently frozen for two to three months.[1] The lake is located at the crossroads of several bird migration routes across Asia.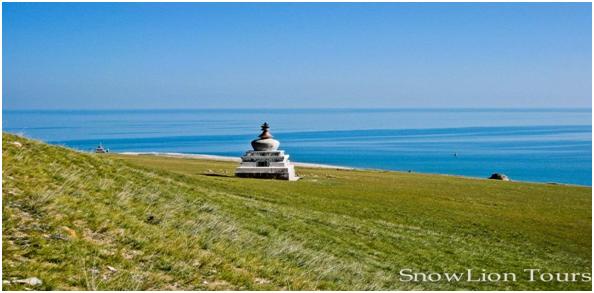 There is an island in the western part of the lake with a temple and a few hermitages called "Mahādeva, the Heart of the Lake" (mTsho snying Ma hā de wa) which historically was home to a Buddhist monastery.[5] No boat was used during summer, only when the lake froze over in winter could monks reach the mainland or pilgrims visit the temple - many of whom used to come from Tibetan areas and Mongolia. [6] It is also known as the place where Gushri Khan and other Khoshut Mongols migrated to during the 1620s.[7] The lake is circumambulated by pilgrims mainly Tibetan Buddhist followers, especially every Horse Year of the twelve cycle years turn out to the great pilgrimage to the Tibetans. Przhevalsky estimated it would take about 8 days by horse or 15 walking to circumambulate the lake, but pilgrims report it takes about 18 days on horseback, and one took 23 days walking to complete the circuit.[8]
Originally famous for being a highly sacred lake, in 1960s it became a famous military research base for the first atomic bomb in China - now it is famous for being one of the most attractive destinations for Chinese tourism. The Lake is regarded as holy by Tibetans and Mongolians and this is also the sea offering site for Penchen Lama. You can see sea offering site at the south shore of the lake. There are few small monasteries around the lake. Tsonyang is an island in the center of the Lake; Tsonyang meaning "Heart of the lake"; is a Tibetan Buddhism retreat hill. Only a handful monks and nuns live on this hill as most monks retreat. Caves around this lake have been used by many famous Tibet Yogis and religious practitioners. Tsonyang Island can be accessible only in the winter time after the lake freezes.
The best time to travel to the Lake is from July to September.[9] To reach this lake, Qinghai is a railway station on China-Tibet rail line. It can also be reached from Xning in Qinghai province.

As per the statement by Chhimed Rigdzin Rimpoche, a Buddhist Lama of Karma pa Sect, considered as the only lineage holder and reincarnation of Nunden Dorje (Undeposed Powerful Thunderbolt), the foremost disciple of Buddha Sakyamuni who has been in charge of the 12 Gomphas (monasteries) in the Eastern Tibet: "Guru Nanak visited the Koko Nor lake" during his journey to the Tibet and China [10]. As KokoNor has a Mahadev temple and Boddhi gomphas, Hindus as well as Buddhists from India too would have been travelling to the place. It is with these travelers, that Guru Nanak too would have gone. Most probably, the period of Guru's Visit is 1517 AD and the route is while returning from Nanking to Leh-Ladakh. Since the statement has come from a renowned religious luminary of the area, a detailed research on Guru Nanak's visit to Kokonor is needed to establish the authenticity of the statement.
References
[2]. Buffetrille, Katia. "The Blue Lake of Amdo and Its Island: Legends and Pilgrimage Guide." In:
The Tibet Journal
Vol. XIX, No. 4, Winter, 1994.p.2 Andreas Gruschke: "The realm of sacred lake Kokonor", in:
The Cultural Monuments of Tibet's Outer Provinces: Amdo vol. 1. The Qinghai Part of Amdo
, White Lotus Press, Bangkok 2001; pp. 90ff, 93ff. ISBN 974-7534-59-2
[3] "Water level variation of Lake Qinghai from satellite"Water level variation of Lake Qinghai from satellite and in situ measurements under climatechange"PDF).
Journal of Applied Remote Seeing
(Utsa.edu).
[4]. Rhode, David; Ma Haizhou; David B. Madsen; P. Jeffrey Brantingham; Steven L. Forman; John W. Olsen (2009).
"Paleoenvironmental and archaeological investigations at Qinghai Lake, western China: Geomorphic and chronometric evidence of lake level history"
(PDF).
Quaternary International
: 3. Retrieved 2010-03-18.
[5] Gruschke 2001, pp. 93 ff.
[6] Buffetrille 1994, pp. 2–3.
[7] Shakabpa, Tsepon W.D.
Tibet: a Political History
. New Haven: Yale University Press, 1962
[8] Buffetrille 1994, p. 2.
[9]
http://snowliontours.com/custom_trips/places-to-visit/qinghai-lake-tsongonpo-kokonor-lake
[10] Dalvinder Singh Grewal, 2000, Amazing Travels of Guru Nanak, Shiromani Gurdwara Parbandhak Committee, Sri Amritsar, p.256
Last edited by a moderator: