Another accident, another escape for Mann
Vishal Joshi
Tribune News Service
​

​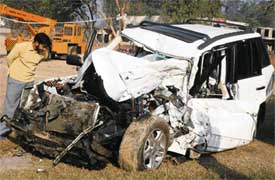 This is what remains of Punjabi singer Gurdas Mann's Range Rover car after it met with an accident near Karnal on Saturday. — Tribune photo by Vinay Malik
​
Karnal, January 20
Punjabi singer-actor Gurdas Mann had a miraculous escape when his car went out of control and rammed into a truck coming from the other side on the GT Road here this morning.
The sturdy Range Rover car (PB-10-BU-0011) first hit the road divider and then rammed into a truck coming from the opposite side. Although the car was badly damaged in the accident, Mann and his driver, Ganesh, managed to dodge the death.
The accident took place at Bastara Chowk near here. Both Mann and Ganesh were injured in the accident. However, both of them were reportedly out of danger.
They were taken to Arpana Hospital, Madhuban, around 5.45 am. Mann was later shifted to Fortis, Mohali.
Hospital sources said Mann received 25 stitches above his left eye. Doctors attending on him said though Mann complained of chest pain, the X-rays reports ruled out any fracture.
Ganesh (30) received injuries on his face and got fracture of the mandible and a bone in hand. He was operated upon at Arpana Hospital. Mann was on way back to Patiala from Greater Noida, where he performed last night, family sources said.
Mann's film producer wife, Manjit Kaur, is away to Mumbai and is expected to reach Chandigarh today.
Mann had also met with an accident on January 9, 2001, at Seehon Majra, near Kurali, in Ropar district. His driver, Tej Pal Singh, was killed in that accident. Mann was travelling in his Pajero car at that time.
Famous Punjabi pop singers Jassi and Sarabjeet Cheema were among the well-wishers who reached here on coming to know about the accident.
Mohali: Gurdas Mann was brought in the evening to Fortis
Hospital here where he will be examined by specialists and kept under observation. This is to rule out internal injury even though he was reported to be "fine".
Dr Ashok V. Chordiya, Medical Director at Fortis Hospital, Mohali, who is an internal medicine specialist himself, told mediapersons after examining Gurdas Mann, "All vital parameters are fine. His pulse, blood pressure etc are all normal.
After the X-rays, CT scans and ultrasound examinations it appears that there are no fractures or internal injuries, and his condition appears to be stable".
Among other medical experts who examined him were the orthopedic surgeon, Dr Padaman Singh, and the cosmetic surgeon, Dr K.M. Kapoor.
----------------------------------------
----------------------------------------