A CHARITY activist in Burrowbridge and a North Curry stalwart have both been honoured at the Somerset County Council Chairman's Award in Taunton. Ravinder 'Ravi' Singh and his charity Khalsa Aid arrived in Burrowbridge at the height of the most recent floods, coinciding with a volunteer response of around 120 people.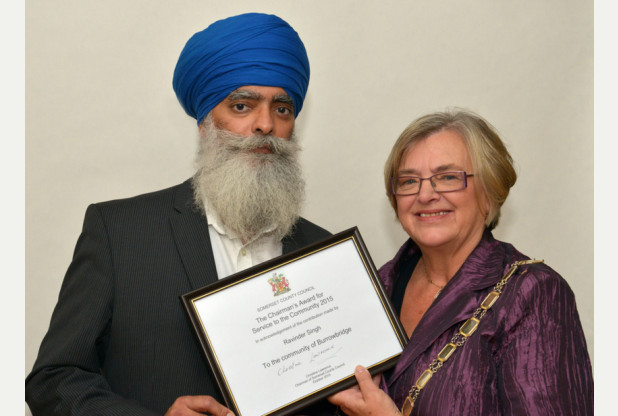 Council chairman Christine Lawrence said: "He strode up the road that morning and simply said: 'What do you need and how can we help?'.
"Ravi provided personnel and supplies, logistics and communication, food, water, building materials and equipment but above all a permanent sympathetic and positive demeanor.
"Ravi is not just a thinker, he is a doer. He is strong both mentally and physically. He toiled endlessly for the benefit of others and maintains close contact. He is a human being of rare worth and depth."
An award was also given posthumously to Andy Moll from North Curry, in recognition of his work in the parish council for 17-and-a-half years.
Mr Moll died in a diving accident in May, and his award was collected by his nominator Anthony Turner on behalf of Elaine Moll, Mr Moll's widow.
Mr Moll's award recognised his work on the village's playing fields, crediting him in 2004 with overhauling the facilities after they had fallen into disrepair.
Mrs Lawrence added: "At the time of his death Andy had led the playing field committee for several years with many successes, including new toddler equipment, new benches, storage facilities, football goals, climbing web, swing and a zip wire.
"He took time to liaise with the children at school to find out what was important to them. He was modest and hard-working.
"He would spend his time making minor improvements to the pavilion, maintaining play equipment or applying for funding.
"In his quiet and unassuming way, he tried to improve the lives of others. The playing fields are a true legacy of his work and he is sorely missed."
http://www.westerngazette.co.uk/Bur...tory-28078996-detail/story.html#ixzz3q3qmP652