A favourite snack food in North America is Buffalo Chicken Wings. These have nothing to do with the animal buffalo, but were invented in the city of Buffalo, New York. I have never eaten them, but everyone who isn't a vegetarian seems to love them, spicy-hot with a touch of sweetness. They are usually served with either ranch dressing or bleu cheese dressing.
This cauliflower/gobi dish, adapted from a recipe in All Recipes is a version we vegetarians can eat without guilt. To make them vegan, simply substitute vegan margarine for the butter.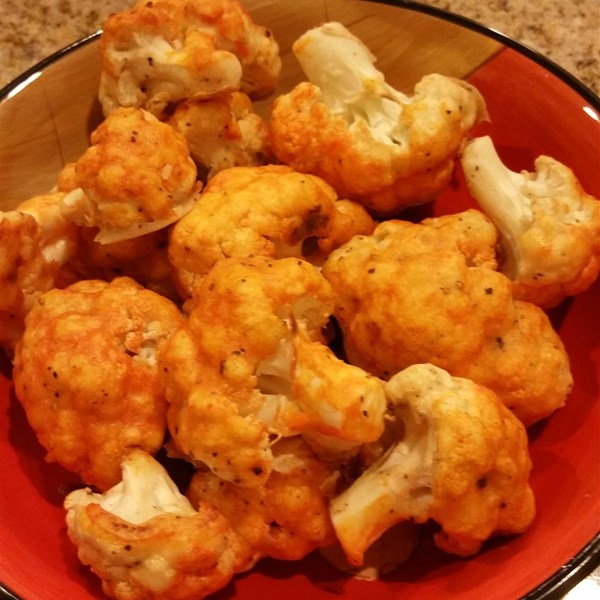 Photo by angelleigh, Los Angeles CA
Buffalo Wings-style Cauliflower
Ingredients
cooking spray
1/2 cup whole wheat flour
1 cup water
1/2 teaspoon garlic powder, or to taste
salt and ground black pepper to taste
2 heads cauliflower, cut into bite-size pieces
2 tablespoons unsalted butter
1/2 cup hot pepper sauce (such as Mexican Tapatio)
1 teaspoon honey
Directions
Preheat oven to 450 degrees F (230 degrees C). Lightly grease a baking sheet with cooking spray. Use cooking spray even with a non stick sheet or these will stick.
Mix flour, water, garlic powder, salt, and pepper together in a bowl until batter is smooth and somewhat runny. Add cauliflower to batter and mix until cauliflower is coated; spread onto the baking sheet.
Bake in the preheated oven until lightly browned, 20 to 25 minutes.
Melt butter in a saucepan over medium heat. Remove saucepan from heat and stir hot pepper sauce and honey into butter until smooth. Brush hot sauce mixture over each cauliflower piece, repeating brushing until all the hot sauce mixture is used.
Bake in the oven until cauliflower is browned, about 10 minutes. Remove baking sheet from oven and allow the cauliflower to cool 10 to 15 minutes, if you can resist eating them that long.
Note: this is also good made with potatoes cut into appropriate size. I thinkthey might also be good made with stale bread or bagels, but I haven't tried it.
Adapted From Allrecipes.com 12/30/2015
Original recipe ALL RIGHTS RESERVED © 2015 Allrecipes.com