Faith schools only serve to alienate members of society
September 8, 2010 by Hannah Davies ~ The Journal Source:

​
Sep 8 2010:
AS CHILDREN return to a new school year many of them will also be returning to the celebration of faiths they do not believe in.
That's just one of the myriad of problems with faith schools, whether Evangelical, Catholic, Muslim, Jewish or other.
I would ban all state association with faith schools, all of them. Education is about educating, it is not about indoctrinating.
We live in a free society where anyone can practice any religion openly and without risk of prosecution.
Why then do we allow schools to exist which openly preach one way of life is better than another?
There's no place for promoting one religion above the other in a modern multicultural society and faith schools do nothing but encourage the separation of society and alienation of different groups within it.
As an atheist growing up and attending the local Church of England Schools, primary and comprehensive, I felt very alienated by the religious practices which occurred throughout my childhood. I was told by one pupil I'd "die tomorrow" when I confessed to not believing in God (admittedly we were about six) and, in the end, I just used to chant along, eyes shut, to be the same as everyone else.
I imagine it'd have been even more alienating if I'd been a Sikh.
There is a place for education on religion. It's called religious education.
That's the correct place to discuss different theologies in a comparative context.
It's important to educate children about different religions because it promotes the understanding of different people and cultures. Which is exactly what faith schools do not do.
They teach one particular religion is worthy of more attention than others, which is wrong.
Many parents actively seek to get their children into faith schools. Often that's more to do with results than religious beliefs.
Increasing numbers of parents, who are atheist or at best agnostic, find their children having to take part in the rituals of a religion they don't believe in, in exchange for a decent education.
Because that is often the pay-off. Frequently faith schools are seen as desirable, because of the extra funding they get, from churches or religious philanthropists.
This desirability is a situation which perpetuates itself. And faith schools' admission policies are often much more selective.
And so you get people exaggerating their church-going (a couple of times a year for weddings and christenings) or even claiming a faith which they don't have to get their children into schools.
And there is another compromise, which is more worrying. Faith schools often preach under the guise of education which is to my mind indefensible.
Lets take Creationism.
Science is a discipline founded on the basis of provable fact and yet there are faith schools teaching Creationism as science.
This is simply just taking a belief system and placing it into a discipline where it has absolutely no right to be.
We may as well teach TS Elliot's "This is the way the world ends, Not with a bang but a whimper," a scientific fact about the end of the world rather than "Armageddon".
But let's face it, it isn't definite fact is it? It's comment on the human condition and how we fit into the world, just as religion is a way of making sense of the world.
Religion is theory and conjecture, not fact – and science is based on fact.
Also faith schools can either knowingly, or let's give them the benefit of doubt, unknowingly, preach levels of intolerance which are unacceptable in modern society.
Let's look at the issue of homosexuality. You have schools preaching the Bible or Koran or Torah that same sex relationships are "wrong".
Chapters 18 and 20 of Leviticus for example say: "Thou shalt not lie with mankind, as with womankind: it is an abomination.", and "If a man also lie with mankind, as he lieth with a woman, both of them have committed an abomination: they shall surely be put to death; their blood shall be upon them".
Of course most people following religions are moderate people, and there are plenty of homosexual priests, but faith schools which preach the Bible as indefatigable truth are indoctrinating people and influencing people negatively.
It's not like there is no other time for people to get involved with their faith either. That's why churches have Sunday schools and there's mosques and Hindu temples – pretty much every religion you know offers some kind of education for its young outside of school hours.
We live in an increasingly diverse society and our education system, which is largely based on equality, should treat faiths on an equal footing in religious education.
Parents who want to can always pay to send their children to a private faith school.
But state sponsorship is a different matter. Free education for all should be based on education only, not indoctrination.
Society has always worked best when it is integrated, when rich live alongside poor, when Muslims live alongside Christians. You separate people and you create a "difference", which leads to misunderstandings.
My child will be able to follow his own religious path and I want him to make up his own mind. Inevitably there will be influence from my husband and myself and our cultural traditions – we celebrate Christian festivals for example.
But I don't want him to feel the alienation I did growing up in a religious education system. I want his education to be completely non-secular leaving him to determine his own spiritual path when he is old enough to do so.
http://www.journallive.co.uk/lifest...alienate-members-of-society-61634-27220656/2/
UK's first Sikh temple school opens its doors
By Poonam Taneja BBC Asian Network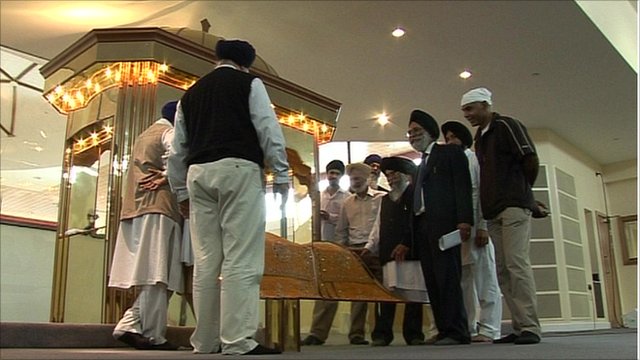 Headteacher Kawal Singh gives a tour of the UK's first Sikh temple school
The UK's first school to be established by a Sikh temple has opened at Southall in West London, home to one of the largest Sikh communities in the country.
A special tandoor will cook traditional Punjabi cuisine. And the classrooms of the Khalsa Voluntary Aided Primary School are painted in the Sikh colours of saffron and blue.
The alphabet is carved into the walls in Gurmukhi - the most common script used for writing Punjabi. While the Nishan Sahib, the Sikh flag, triangular and saffron-coloured, hangs from a tall, stone pole.
We will always make sure we are a school in England - we are looking at British Sikhs who are going to be global citizens"
End Quote Kawal Singh Headteacher
"Whatever we teach will be underpinned by Sikh values and ethos," says the new school's headteacher Kawal Singh.
Pupils will study the national curriculum but will also learn the Punjabi language and Sikh history.
Mrs Singh says the pupils will also learn about other faiths and they will celebrate religious festivals including Christmas and Diwali.
And 20% of places are reserved for non-Sikhs.
"We will always make sure we are a school in England - that we are looking at British Sikhs who are going to be global citizens."
"We have relationships with other schools, which are not Sikh schools, where the children have visited" says Mrs Singh.
"They have visited us in the gurdwara, so we will make sure that we always remain in the mainstream.
There are currently 170 children at the school and it is already oversubscribed.
It will grow as new pupils join the reception class each year, until it reaches capacity of 470.
Although there are three other state-funded Sikh schools in the UK, this is the first to be officially affiliated to a gurdwara.
Sikh values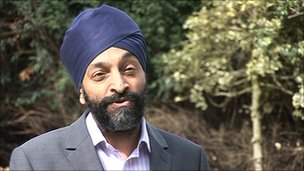 Mantej Singh Notay's son will attend the new school

Mantej Singh Notay is confident the new school is right for his son Arjun.
"He will mix with teachers that are living by Sikh values. He will mix with teachers that have values of their own, whether they are Sikh or not.
"He can live and learn in the environment we have chosen to send him to because we are comfortable with that environment.
"I was the first child in my school who had a turban and I had problems with that. I had my turban knocked off, I got bullied.
"So for me it is about trying to get him all the knowledge, the ammunition, he needs to live his life as a strong Sikh and also as a strong person in society.
"Coming to a Sikh school, he will get all the educational factors but he will also get with that all the Sikh factors and come out as a better human being as a result of it."
Oversubscribed A huge, stone arch marks the entrance to the cedar-clad, two-storey building which is in a conservation area.
There is a kitchen, garden and woodland trail for the children to explore. School lunches will be strictly vegetarian, in accordance with Sikh teachings.
At the heart of the school is a temple that contains the Sikh holy book, the Guru Granth Sahib.
Here, pupils will remove their shoes and cover their heads, starting the day with 20 minutes of prayer before lessons.
"There has been pressure for a long time from the community to start a gurdwara school," says Surinder Singh Purewal, the General-Secretary at the Sri Guru Singh Sabha Gurdwara, the largest Sikh temple outside India.
"In India, gurdwaras run schools as well as colleges. In the Sikh holy scriptures, there is a lot of emphasis on educating kids, so that is where it comes from."
The local community raised £5m of the total £12m cost of the new state of the art, environmentally-friendly building, with the remainder of the funding coming from the Department for Education.
And Mr Purewal is confident other Sikh temples will follow their example.
"I know that other gurdwaras are already looking at it. They are thinking of taking a leaf out of this book.
"It can be done and we will give our help and advice to anyone who wants to do it."
http://www.bbc.co.uk/news/education-11197447
Any thoughts??
Last edited by a moderator: