A family, consisting of a mother and her two children, who witnessed the anti-Sikh pogrom of 1984, stepped out of their house in Moga, Punjab, for the first time in 30 years.
The trio - identified as Nirmal Kaur, her daughter Kamaljeet and son Inderpal Singh - were forcibly removed from their home and taken to a mental asylum in Amritsar by the local police after Nirmal Kaur's husband - Joginder Singh Bedi - filed a petition in a local court, The Indian Express reported.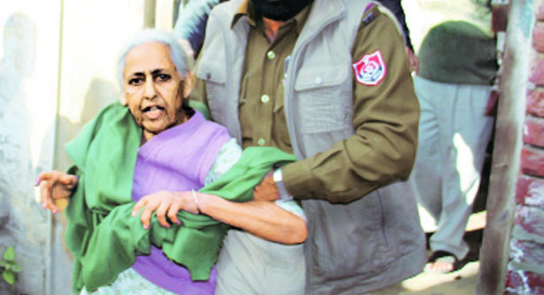 Joginder Singh, a retired railways employee, wrote in his petition that he was posted in Allahabad when the riots broke out in 1984, and that he had left his family at his brother-in-law's home.
He said that the 1984 massacres had so traumatized the three that they feared that they would be killed if they stepped out of the house.
"In the initial years after the 1984 pogrom, my wife used to at least talk normally but her condition deteriorated. She refused to move out of our home. At that time I used to visit them once a month from Allahabad. But when I returned for good, I was shocked that she did not allow me to live with them. I moved to another house but visited them once a week with rations and other items they asked for," said Joginder Singh, now in his 70s.
He says he was forced to rent another house to live in and would on a weekly basis visit his family and provide them rations. He also revealed that the power connection to the house where the trio were staying had been disconnected four years ago since he never got the bills for the house and so couldn't pay them.
Following Joginder Singh's petition, the police, acting on Chief Judicial Magistrate Puja Agnihotri orders, has moved the trio to Amritsar based on recommendations from doctors at the local civil hospital.
When the trio were being moved out of their house, Joginder Singh's daughter, Kamaljeet had a kirpan in her hand and warned the police that she would kill them if they touched her.
Joginder Singh broke down as he watched his wife and children being taken away by the police.