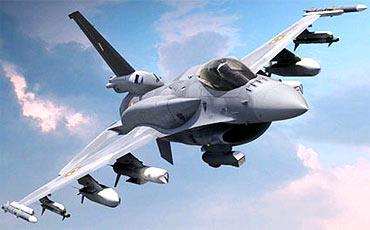 United States aircraft manufacturer Lockheed Martin Corporation has offered India its tailor-made advanced F-16IN Super Viper aircraft for the Indian Air Force.
Michael R Griswold, director of advance development programme, Lockheed Martin, told mediapersons on Thursday that the offer of the customised fighter plane should be seen as a step ahead of the F-16 series.
"F-16s have a long history of operations around the world. As everyone understands, the F-16s that we are offering here to India is by no means the end of the line of F-16s. In fact, it represents the beginning of what we think is a great future for F-16s in India," said Griswold.
The advanced version of the F-16 has been designed after long discussions between the IAF and Lockheed Martin Corporation.
Features like active electronic scanned array, enhanced high-thrust engine, and large weapon inventory have been specially integrated to suit the needs of the IAF.
"We had to show all our requirements during trials. The IAF had a very rigorous process in place to step through the requirements one-by-one and check them all," said Griswold.
"So, in the case we had to provide new capability beyond what the F-16 block has, say a new weapon that the IAF wanted or the new sensor IAF wanted, we had to put that capability in many cases. We demonstrate in flight whenever we could on the F-16. In some cases it was not practical in incorporating on the aircraft so we did it in assimilation in the laboratory environment. But every single of those requirements we have shown to the IAF we are capable of it," he added.
He declined to comment on United States President Barack Obama's visit to India in November.
I read a lot of stories about what the President's visit is or is not going to accomplish. I think clearly if you look at the trajectory the relationship is on between the two countries, it is more of growing closer in many areas, not just defence but across the broad spectrum of commercial and cultural, social and defence issues. No reasons to believe that all the generals will be part of the visit. But defence probably will come up. By no means will it be all that they will discuss," Griswold noted.
The F16IN Super Viper is a fifth generation fighter, sharing a heritage with the F-35 Lightening II Joint Strike Fighter and the F-22 Raptor.
http://news.rediff.com/slide-show/2...-super-viper-fighter-aircraft-woo-the-iaf.htm