Wife's Murder: Court Allows Extradition
of NRI Fugitive to US
New Delhi | Jul 09, 2010
A Delhi court today allowed the Centre to extradite NRI fugitive Avtar Singh Grewal to the USA to face trial for allegedly killing his estranged wife at Phoenix in 2007.
"A prima facie case is made out in support of the requisition of the government of the USA for extradition of the fugitive criminal," Additional Chief Metropolitan Magistrate (ACMM) Ajay Kumar Pandey said.
The court allowed the plea of A K Vali and Naveen K Matta, special prosecutors of the Ministry of External Affairs (MEA), that the offence allegedly committed by the fugitive was an extraditable crime.
The fugitive, then working as manager with a firm at Vancouver in Canada, allegedly travelled to Phoenix in the US to meet his estranged wife Navneet Kaur and flew out of that country on a one-way ticket after killing her on March 29, 2007.
"This court is not supposed to weigh the evidence in detail. In the inquiry proceedings against the fugitive criminal, only a prima facie case against him is to be seen. Veracity of evidence cannot be ascertained," the ACMM, who is the sole empowered judge to hear extradition cases, said.
The court, in its 23-page order, said there was "sufficient circumstantial evidence" as well as the confessional note of the fugitive criminal to prima facie suggest his involvement in the death of Navneet Kaur.
The court rejected the plea of Grewal that the autopsy report of the deceased suffered from serious medico-legal and forensic flaws, saying "medical evidence can only be the corroborative proof with the other circumstantial evidence."
The court lent credence to the confessional note of Grewal, saying there is sufficient material to suggest that it was in his handwriting.
Grewal, 36, was arrested by CBI on arrival at the IGI Airport here on March 31, 2007, following a 'look-out circular' issued against him by the Interpol at the request of the FBI.
The victim, the eldest daughter of retired IPS officer Ratan Singh, had married Grewal in October 2005. But after their relations turned sour, she lived separately and wanted to file for a divorce.
Grewal visited her at Phoenix on March 29, 2007.
Besides relying on other documentary evidence, the FBI, during its probe, considered the eye-witnesses' account that the fugitive was seen outside the house of the victim on the fateful day.
The FBI later got issued by the Interpol a 'look-out circular' against Grewal after it came to know that he had flown out of the country.
Grewal, who is lodged in Tihar Jail here since his arrest, however, opposed the extradition proceedings on the ground that it was initiated "mechanically" without analysing the evidence supplied to the MEA by the US.
Claiming innocence, Grewal alleged the extradition proceedings have been initiated against him merely because the deceased was the daughter of an IPS officer.
source:
http://news.outlookindia.com/item.aspx?687119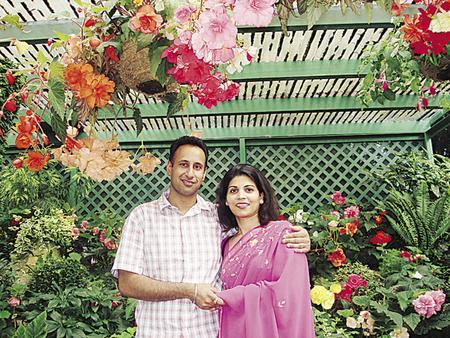 ----------------------------------------------------------------------------------
BACKGROUND:
Canada's Conundrum
The Americans say Avtar Singh Grewal of Vancouver strangled his wife to death in a fit of anger.
Grewal says American investigators have "concocted evidence" against him.
An Indian court is now trying to figure out whether Grewal, 32, should be extradited back to Phoenix, Arizona where he could face the death penalty for the murder of his wife Navneet Kaur, 30.
The Grewal case — filled with passion and animosity — has put Canada in a conundrum.
What happens to a Canadian resident accused of murder who is arrested in one country and faces extradition to another country that enforces the death penalty?
Ottawa opposes the extradition of Canadian residents if it will result in capital punishment.
Under the terms of the Canada-U.S. extradition treaty, Canada can refuse an extradition request if U.S. prosecutors refuse to waive the death penalty.
In a number of recent cases, U.S. prosecutors have voluntarily agreed to waive execution in order to obtain the prompt return of murder suspects.
But because the murder took place in America, Canada finds itself with a very limited role to play.
"The extradition act only applies to Canadian nationals who have committed a crime at home," says Carole Saindon, spokesperson for the Canadian Justice Department.
"While we can provide consular services for a Canadian in a foreign country, we cannot legislate for other countries."
Without commenting specifically on Grewal's case, Foreign Affairs spokesperson André Lemay, says a citizen who is arrested in one country but extradited to another creates a complicated judicial process that involves several Canadian agencies.
"We would establish what we can to bring the Canadian home," he said. "But we want justice to take its due course."
Since 1997, India and the U.S. have shared an extradition treaty. Under its terms, India must hand over an accused if murder is involved, even if U.S. prosecutors seek the death penalty.
Arizona county attorney's office spokesman Mike Scerbo would not confirm if American prosecutors will seek the death penalty for Grewal. But lethal injection is legal in Arizona.
Since 1910, 86 inmates on death row have been executed.
For now Grewal, 32, is being held in Tihar Jail, the largest complex of prisons in South Asia.
The Indian court deciding his fate has been told by India's Ministry of External Affairs that there is enough evidence that Grewal killed his wife, Navneet Kaur, in her quiet Ahwatukee Foothills home in Phoenix last March.
As he battles the extradition request and a possible date with lethal injection, the court heard how the Vancouver man allegedly killed his wife and escaped to India.
Grewal and Navneet were married in October 2005 through an arranged marriage but had been separated for quite some time.
The new husband moved to Vancouver shortly after the marriage and pleaded with his bride to join him, according to relatives who said the couple experienced a lot of friction over the matter.
She was a beautiful and ambitious young woman, the daughter of a retired police superintendent in India.
Navneet had been working at a high-tech company in Phoenix for five years and had just been promoted to project manager.
Her boss described her as well-liked and bright.
Known as "Navi" to coworkers, she was described as the "pride and joy" of her family.
Grewal worked for a trucking company in Metro Vancouver, and was described as a dependable employee by his boss. His dream was to become an accountant, his profession in India.
He reportedly graduated from Punjab University and held a master's degree.
The couple reportedly fought often about where to live.
According to Navneet's brother, Grewal was possessive and kept his wife on a short leash, dictating what she could and could not do.
Grewal reportedly harassed his young wife as well, calling her incessantly and demanding that she move to Vancouver.
Last March, Grewal flew to Phoenix to tell her to forget about her new job and to move back with him to Canada.
But things didn't go to according to plan.
Navneet Kaur was tired of arguing with Grewal about her career, and demanded a divorce.
Navneet reportedly kicked and slapped Grewal and in the heat of the moment, Grewal allegedly strangled her to death.
Consumed with guilt, Grewal reportedly tried to commit suicide but the attempt was unsuccessful.
Grewal, a permanent resident in Canada, fled to India. Upon his arrival, he was arrested by the Central Bureau of Investigation (CBI) on the strength of an Interpol circular.
Based on several pieces of evidence, Arizona authorities have charged him with first degree murder and are seeking his extradition to the U.S. from India.
Last year, U.S. Marshals completed almost 500 fugitive extraditions and deportations from around the world.
According to the Hindustan Times, Grewal confessed to killing his wife during a dispute.
"He claims that his wife kicked and slapped him and in a fit of anger he strangulated her," the investigating officer told the New Delhi newspaper. "He also says he felt sorry and left a note saying he had killed his wife.
"After he killed her, he claims to have tried to commit suicide by slashing his wrist and then trying to hang himself from the ceiling."
After allegedly killing his wife, Grewal hopped on a Continental Airlines flight and arrived in New Delhi on March 31, 2007. He had barely landed when the CBI arrested him on a Federal Bureau of Investigation (FBI) warrant issued through Interpol.
In its initial probe, the FBI gathered several pieces of incriminating evidence against Grewal, including the fact that he was allegedly seen outside the victim's house on the day of Navneet's murder.
Last week, the Ministry of External Affairs (MEA) in India informed a Delhi court that it has enough "credible evidence" to extradite the wanted man.
MEA under secretary M.R. Qureshi told the court: "It is incorrect to suggest that there is no material to suggest that the fugitive is connected with the crime for which the extradition is being sought."
But Grewal is opposing the extradition request on the grounds that it was purely "mechanical" and based on "concocted evidence."
Extradition experts say this case will test policies and precedents in three nations.
source:
http://www.southasianpost.com/portal2/c1ee8c441a92e25c011a9d10732f0163_Canada_s_Conundrum.do.html