Anil Gupta, a faculty member at the Indian Institute of Management, Ahmedabad, who has led his life seeking out innovators from remote villages through Khoj yatras under his Honey Bee network and NGO Sristi, persuaded the Central government to set up the NIF a decade ago.
However, the NIF has been struggling with a budget of just Rs 1.5 crore, which is the interest earned from a corpus of Rs 20 crore (Rs 200 million).
This year, the corpus was returned and replaced with an annual allocation of Rs 8 crore (Rs 80 million), says Gupta. But he feels nothing less than Rs 200 crore (Rs 2 billion) can help promote a substantial number of, say, 2,000 innovations each year.
With the pittance of Rs 1.5 crore (Rs 15 million), the NIF was supposed to identify innovators, get them patents (applying for a patent cost Rs 1.5 lakh till last year when the NIF came up with a strategy that brought down the cost), and help them manufacture and sell. Just 200 patent applications were made in 10 years.
Gupta, who is an advisor to the Prime Minister on innovations and is a member of the National Innovation Council headed by Sam Pitroda, sounds helpless as he explains the gulf between the NIF's aspirations and its capacity to deliver.
"There is nothing in this country to support innovation," he says.
The international business school INSEAD recently brought out its third consecutive Global Innovation Index, in which India has come down from a ranking of 56 last year to 62 this year among 125 countries.
The ranking is based mostly on innovations done commercially through the industry or through the academia and does not look at the kind of work that is done in the informal sector, where life itself is turned into a laboratory.
A case in point is that of the then seven-year-old boy in Tamil Nadu who created a device to separate different sizes of rice grains last year. That helped his mother rid rice of the chaff.
Click NEXT to read on
The sheep-shearing machine or the scooter that doubles up as a flour-grinding machine or a cycle that operates a washing machine, are innovations that are not captured by any study.
And, they also fail to grab the attention of the government. Even the civil society ignores them.
Though the sheep-shearing machine and the flour machine-cum-scooter got displayed in the Aamir Khan film '3 Idiots', the innovators Sheikh Jehangir and Mohammad Idris got a reward of just Rs 10,000 each from the film-makers who made close to Rs 400 crore, says Gupta.
The least the innovators need is to be identified and aided by an angel investor. Neither are they identified nor is there any angel investor for them in India, says Gupta.
"We would start an angel fund once we get more funds," he says.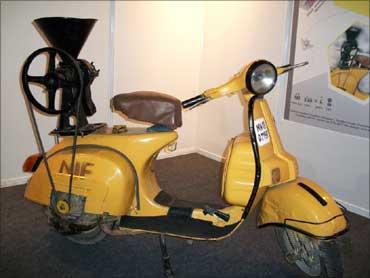 The society is rich in ideas which don't recognise education, age or such barriers. It is for the government to link these ideas to manufacturing and marketing.
Gupta says the first step is to use existing networks like those of postmen to become catchment points for innovations.
The idea is yet to sink in at the National Innovation Council, of which he is a member, or reach the Prime Minister, who he is supposed to advise.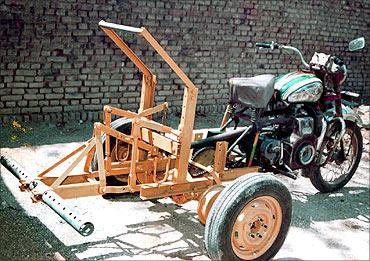 http://www.rediff.com/business/slid...hy-india-ranks-low-in-innovation/20110713.htm