After
Harjit Sajjan
, a fully uniformed (turbaned and bearded) Sikh, was chosen by Justin Trudeau as Canada's defense minister, I came across multiple Facebook posts criticizing Sajjan's involvement in the Canadian military. This came to me by surprise as I expected unanimous Sikh support for Sajjan's appointing to one of the highest governmental positions in Canada; this appointment was a major success for the Sikh struggle to be accepted with full Sikh uniform into the military, specifically the struggle with the U.S. military.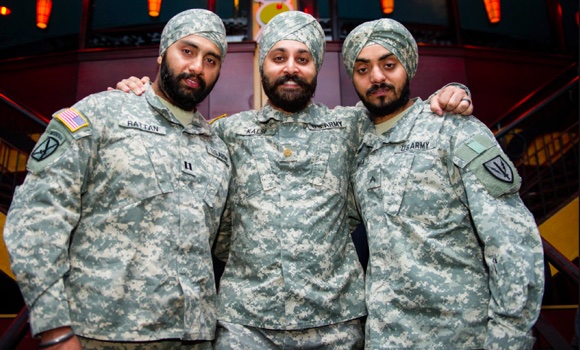 Whilst reading through the criticism, I found that it all stemmed from Canada's disrespectful treatment of its indigenous population and its military operations in the Afghanistan War and that Sajjan being a Sikh should not associate himself with such a controversial, unjust military and government. Similarly, many Sikhs are critical of the Sikhs attempting to join the U.S. military based on the U.S.'s past gratuitous military operations.
I understand where these critics were coming from. Sikhism bases itself in fighting against inequality and injustice anywhere as this is how the faith started when
Guru Nanak Dev Ji
fought against the unfair caste system that prevailed in India (and that still prevails). Thus, it makes more sense that Sikhs should fight
against
such unjustness by taking action against the military rather than joining it.
Nevertheless, I am critical of those criticizing Sikh involvement in the military. What these critics don't realize is that having Sikhs in the armed forces is actually a plus for the world and international relations. Here are two core reasons for why having Sikhs in the military is beneficial:
1. Sikh history speaks for itself.
From the tyrannical Mughal Empire to World War II, Sikhs have continuously resonated Sikh values of justice through battle. In fact,
in a set of instructions
written by the tenth Guru,
Guru Gobind Singh Ji
in 1708, one rules states to "practice diplomacy, employ a variety of tactics and exhaust all techniques before engaging in warfare" when dealing with enemies. This rule is followed by "train in the skills of weaponry and horsemanship." These instructions show how Sikhs have always been aware on how to deal with adversaries, and Sikhs have been known for this. Sikhs' warrior culture, diplomatic skills, and simultaneous spirituality are what attracted the
British to recruit Sikh soldiers
for both the World Wars and these characteristics are what have allowed the entire Sikh population to prosper despite hundreds of years of struggle and attempts at eliminating the entire community (which also continues today). Hence, our history shows what an impact Sikhs can make in international relations; the world needs ambitious leaders and Sikhs have always been fighting injustice and corruption.
2. We have the power to initiate change.
No matter how pessimistic some critics may be, I believe that the more Sikhs we have in the military, the higher chance we have to create positive change in the military and policy. When ex-CIA agent
John Kiriakou
came to speak at my university, he said something that resonated with me. It was along the lines of addressing the fear that students have in working for the U.S. military or Department of State, CIA, etc after hearing of the senseless, corrupt decisions that occur in these organizations. Kiriakou basically stated that if students with ambitious thinking join these organizations, there will be a higher chance for promising change. And this can exactly be attributed to Sikhs in the military and the rules and values that Sikhs abide by. The turban symbolizes justice, standing up for the defenseless, and providing a voice for the voiceless. Sikhism entails viewing everyone and everything as God, and therefore, everyone as equals and one. As Sikhs joining the military bring these values to the armed forces and government, I sense a spark of optimism for the U.S. and Canadian militaries. Sikhs have changed tyrannical empires and prospered in the past, and Sikhs can still change policy and prosper today.
The critics of Harjit Sajjan and of other Sikhs in the armed forces are forgetting that based on the very Sikh tenet of fighting injustice, Sikhs in the military have the power to bring positive change and take action to make the military a more just organization. Moreover, battling for justice is a part of Sikhism and looking at our
history
and analyzing what Sikhs have
fought for in the past
, I am confident that the human race will be in good hands with more Sikhs participating in the armed forces.
Follow Sehej Kaur on Twitter:
www.twitter.com/thenamesehej