Why does Buddha have a jooda?
Example: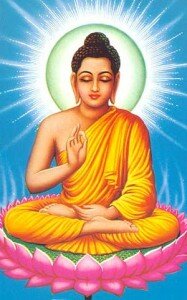 Buddhists call it an ushnisha. It is considered to be a crown. It represents the Buddha's pre-ascetic life as a prince. The long earlobes are from the heavy earrings he wore as a prince.
The ushnisha is meant to be worn by the Chakravartin, who is the secular counterpart to the Buddha. The Chakravartin is a spiritual and temporal king, or leader.
Similar to the concept of Miri and Piri in Sikhism
Miri, from the word Amir, which means commander
Piri, from the word Pir, which means spiritual guide
Temporal and spiritual authority respectively
Another interesting connection I found, involves the etymology of the word "kes". We know it as simply meaning hair, but in Sanskrit terminology it is also used to denote the mane of a lion.
A similar word "caesaries" in latin means hair, from which the word "Caeser" arises. Caeser means king. It becomes Kaiser in German and Tzar in Russian. I believe this implies that the king is like a lion ruling his kingdom.
Singh = King? :blueturban: