Jan 31, 2011
5,769
8,188
51
Despite the Modi wave and the backing of the Shiromani Akali Dal, BJP's situation in the Sikh-dominated West Delhi constituency looks grim because of the wrong choice of candidate. The party's candidate for the Lok Sabha Parvesh Verma, who recently won the Assembly elections from Mehrauli, is struggling with West Delhi's Sikh community.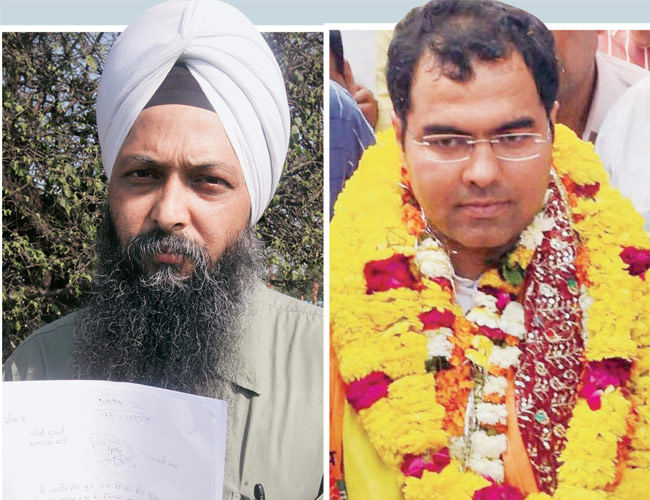 AAP has fielded Jarnail Singh against BJP's Parvesh Verma (right)​
Sikhs constitute more than 16-18 per cent of the total voters in the West Delhi constituency and can prove to be the decisive factor in this election. According to sources, former journalist and Aam Aadmi Party (AAP) candidate Jarnail Singh, being a Sikh, is being favoured by the voters of the community over Verma, the Jat candidate.
"While the Sikh community of Rajouri Garden and Tagore Garden seem to be in favour of the BJP because of Majinder Singh Sirsa, the Rajouri Garden MLA, but Sikh-dominated areas like Kirti Nagar, Pratap Nagar, Hari Nagar and Tilak Nagar, which have over 60 per cent voters belonging to the community seem to have an inclination towards Jarnail Singh," a BJP source said.
Not discouraged
However, this hasn't discouraged former Delhi CM Sahib Singh Verma's son, who has been canvassing for more than 16 hours a day across his constituency. In order to woo Sikh voters, he is giving speeches and referring to the 1984 anti-Sikh riots and promising to set up of an SIT to investigate the riots at the Central-government level.
"The Aam Aadmi Party has been keeping the Sikh community in the dark. They had promised in their manifesto that they'll form an SIT to investigate the riots and later claimed to have formed the same during the 49-day government. However, I pledge to form an SIT when Narendra Modi becomes the PM and Parliament is led by the BJP," Verma said, while addressing a gathering in Ashok Nagar.
However, octogenarian A.L. Maini, a resident of Tagore Garden feels that there could be surprises from the constituency. "People are still making up their mind and they are divided between the BJP and AAP. While some want to give Modi a chance, the Kejriwal factor has also worked with the masses here."
Another resident J.P. Gulati of Tagore Nagar echoed the views saying people have no hope from Congress and that Modi might play an important factor in the area, adding that few might look to support AAP in the community. Kejriwal's announcement of forming an SIT into the anti-Sikh riots is one of the factors that are leading few to consider AAP. "We find his intentions are right and the youth want to give AAP a chance," said Dr Amita Harnal, resident of Rajouri Garden.
http://indiatoday.intoday.in/story/parvesh-verma-jarnail-singh-west-delhi-narendra-modi-anti-sikh-riots/1/351795.html