Vedanti releases 'original' Nanakshahi Calendar
Perneet Singh
Tribune News Service
​
<TABLE border=0 cellSpacing=0 width=220 align=right><TBODY><TR><TD width="100%">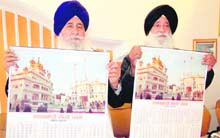 Former Akal Takht Jathedar Joginder Singh Vedanti (left) releases the Nanakshahi Calendar in Amritsar on Monday. Photo: Vishal Kumar
</TD></TR></TBODY></TABLE>
Amritsar, January 17
Former Akal Takht Jathedar Joginder Singh Vedanti today released the "original" Nanakshahi Calendar published by the Delhi Sikh Gurdwara Management Committee (DSGMC) for the New Year at a hotel here today.
The DSGMC has already released the calendar from Rakab Ganj Gurdwara, New Delhi, on December 31 last year.
Releasing the calendar, Vedanti said Sikhs across the globe should follow the original Nanakshahi Calendar that came into inception under his tenure as the Akal Takht Jathedar in 2003.
He said the Nanakshahi Calendar has lost its originality after the "unnecessary" amendments were made in it in 2009-10. "The calendar's soul has been destroyed. While the original calendar released in 2003 was based on solar charts, the amended one is based on lunar charts," he averred.
According to him, the original calendar was a symbol of the separate identity of the Sikhs. Any objections should have been submitted in writing to the Akal Takht and be put before the 11-member panel formed to deal with such issues but no such measure was taken, he said.
"Though a two-member committee was formed to make amendments, none of the Takht Jathedars was included in it," he rued.
He said during his tenure too he had sought objections in writing over the calendar, but didn't receive any.
Vedanti said the calendar came into being after discussions among the Sikh organiastions, historians and intellectuals and consent from the Akal Takht and the SGPC. "No discussions preceded the amendments," he said.
Vedanti said the panel formed during the making of the Nanakshahi Calendar has not been disbanded till now and whatever proposal regarding amendments has to be made it should be first placed before it.
Further amendments to the calendar must be discussed with the Sikh organiastions, which acknowledge the supremacy of the Akal Takht and a consensus should be evolved before putting them before the SGPC executive and the House for the final approval, he added.
source:
http://www.tribuneindia.com/2011/20110118/punjab.htm#3