They held lit candles and raised their hands together in prayer.
Hundreds of faith leaders, politicians and community members, many from different backgrounds and faiths, gathered today at a historic North Las Vegas church to call for inclusion in response to recent acts of hate across the United States.
"We should not be comfortable here today," said U.S. Congresswoman Jacky Rosen, D-Las Vegas, at First African Methodist Episcopal Church in North Las Vegas. "We will never allow our country to be taken off by hate and bigotry."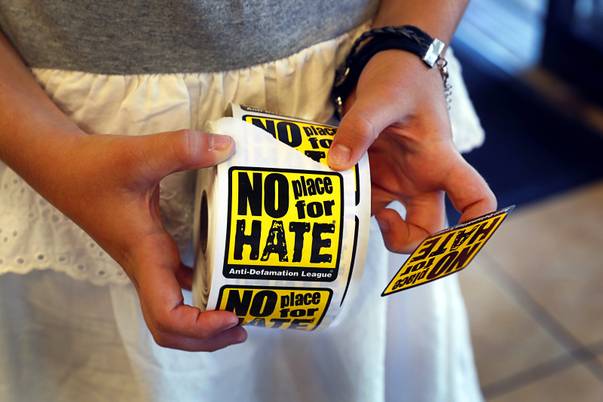 About 20 Southern Nevada religious leaders and politicians spoke at Sunday's event, which was attended by about 400. The message of unity and peace was in response to last week's events nationally, starting in Charlottesville, Virginia, when 32-year-old Heather Heyer was killed and 19 other anti-fascist protesters were injured after Nazi sympathizer James Alex Fields Jr. allegedly plowed his car into a crowd of the peaceful protestors during a white supremacist rally.
While Charlottesville became a focal area of protests and riots following its city council's decision to remove a long-standing statue of Civil War era Confederate General Robert E. Lee at a central city park, organizers and attendees at today's peace event were determined to make sure Las Vegas doesn't become a future sight of such events.
"Las Vegas is, and always will be, no place for hate," said Jolie Brislin, the local Anti-Defamation League Director.
Earlier this year, the valley was one of several areas nationwide to fall victim to a record-setting rash of anti-Semitic acts of hate, which included bomb threats to Jewish community centers and Nazi graffiti, among other threats following the election of President Donald Trump.
While authorities discovered and charged an Israeli-American teen in March for orchestrating the lion's share of the 150 such bomb threats, the publicity sparked by the teen's actions and "unprecedented" threats on the Jewish community empowered the alt-right to hold events like last week's in Charlottesville, the speakers at Sunday's gathering said.
"Mr. Trump, we are all brothers and sisters," said Gard Jameson of the Interfaith Council of Southern Nevada. "There is a beauty in the diversity of creation."
The call to action, echoed by Roman Catholic Diocese of Las Vegas Bishop Joseph Pepe, Rabbi Malcolm Cohen of Temple Sinai and Imam Hanafi Shakur of Masjid As-Sabur Mosque among other leaders, urged those in attendance to proactively fight hate by vocalizing dissent and speaking out against racism and bigotry. Silence and disregard for such instances, whether on national scale like Charlottesville, or something as small as a comment made at home, "benefits the oppressor, not the victim."
Brislin, fighting back tears while speaking at the alter, cited the deaths of Heyer as well as Virginia state police Lt. H. Jay Cullen and Trooper Berke M. M. Bates — who died when their helicopter, supervising the protests, crashed — as those whose legacies will help the cause of inclusion and equality.
"They gave so much to fight this type of hate," she said. "Now it's our turn."