When Sam Lyon fled with his family he was sheltered by a Sikh temple in Sacramento. His experience gave him new insight into the president's travel ban.
Since his family evacuated on Sunday on orders from officials fearful that the spillways of the Oroville dam would break, Sam Lyon said he has sometimes felt "like a refugee in my own country".
The 38-year-old from Olivehurst, California, was angry on Tuesday that state officials had not done more to provide aid to the 180,000 people ordered to the roads.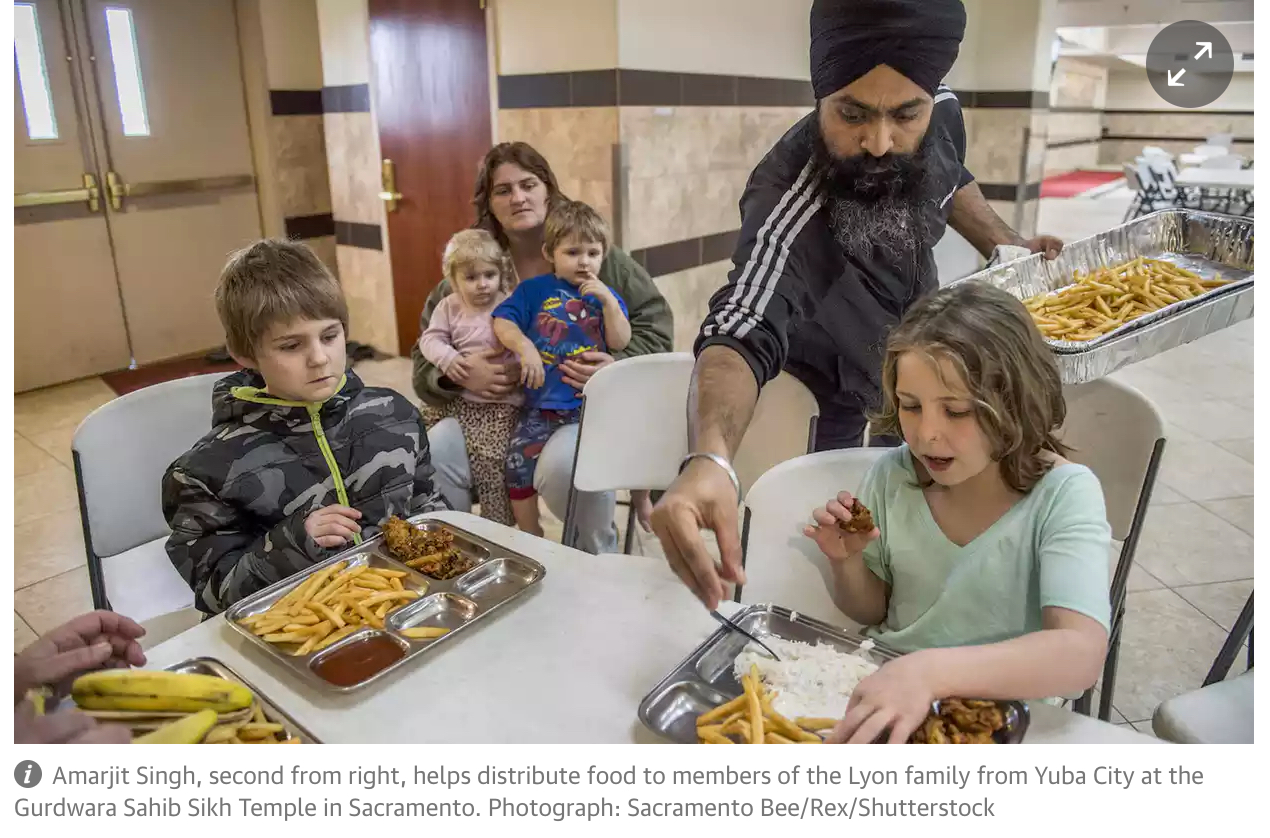 The Lyons had taken refuge in west Sacramento, where volunteers at the Gurdwara Sahib Sikh Temple opened their doors to about 250 people at the evacuation's peak.
"They took us in. We had nowhere to go," Lyon said. "Anything I can do to return that 10,000 fold, I would."
This story of Americans helping one another is made more interesting by the fact that Lyon voted for Donald Trump, who in his first days as president signed an executive order to suspend the refugee program for 120 days.
The 2016 election was Lyon's first trip to the voting booth, and he stressed that he considered himself an unaffiliated voter, a member of the Sierra Club and a skeptic of the parties. He said that some parts of Donald Trump's early agenda, including the order to suspend the refugee program and ban travel for 90 days from seven predominantly Muslim countries, left him feeling "twisted".
"Sikhs are not Muslims," he said, going to pains to note that the groups should not be confused, though Sikhs have been targeted by anti-Muslim violence. Lyon said that any vetting by religion disturbed him. "Don't vet them because they're Muslim. Vet everybody, I don't care where you're from."
But "wanting to vet people? I'm all for it," he said, as a Sikh volunteer handed his children paper Valentine's Day cards, cut by students in the Sikh school.
"The Muslim faith itself teaches peace, it's the radicals," he said. "To me that's bigotry, that's racism, that's the most worst of worst. Don't just do it to seven countries, Mr Trump, do it to everyone."
Lyon said he supported Trump's ban on refugees because he had seen on TV that so many were "war age" men. When it was pointed out that the majority of refugees are women and children fleeing violence, he said he was more than willing to make exceptions: for them, green card holders and their families, and the people who had helped the military abroad. "I'm all for that but I'm also not for opening up our country to attacks."
The Guardian asked a hypothetical – interrupted briefly when Lyon received his own heart-shaped card from the volunteer – what if a refugee were a young Sikh man, fleeing civil war or sectarian violence in India?
"That's a catch-22 for me. I want to be able to help people but you've got to understand, if you're coming from a country that we know is radicalized," he said, "we want to vet you or research you first."
"Personally, now, let's say he had to come from India from civil war and violence, he's a peaceful person, come on in."
The recent court battles over Trump's travel orders encapsulated Lyon's contradictions. He said he was heartened to see the ninth circuit court of appeals suspend Trump's ban, because it allowed Muslim children to reunite with their families, including an Iranian girl in need of heart surgery. "I was happy that Trump put the ban in place, but I was happy she was let in."
At one point, Lyon veered into a problem that the supreme court has confronted repeatedly over the decades: how the US constitution does and does not protect US citizens. "What's the harm of letting their children in? It's a twisted situation."
Asked about the American citizens who perpetrated attacks in San Bernardino and Orlando, he conceded that, "radicalized here, locally, there's not a whole lot I could say".
Lyon said that if he wanted the public to take anything away from the evacuation, it was to see the generosity of the Sikh community and to donate to them. "It gives you hope."
The complex problems facing voters were nowhere to be found inside the actual temple and grade school. Small children laughed over lunch and a few evacuee families rested in several large, clean halls, with food and blankets.
Manpreet Grewal, a volunteer, said that there was hardly any discussion in the community about whether to invite families into the temple. "This is our religion. If anybody has a big problem, we invite everybody. We're open. Come here.