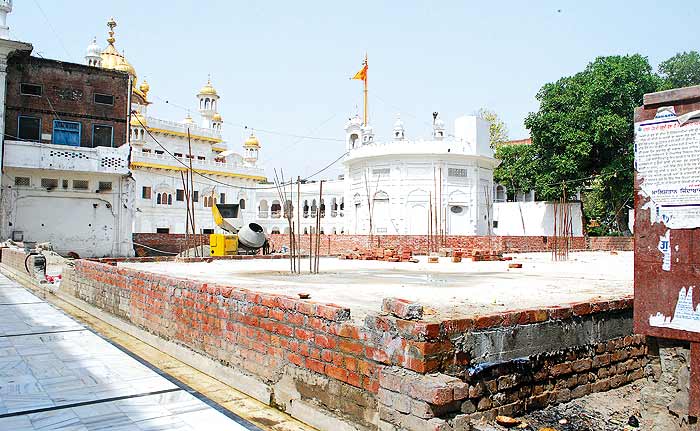 Political plinth The site for the memorial for Operation Bluestar martyrs




Politics: punjab

Troubled Reminder

A memorial for Op Bluestar 'martyrs'?

Chander Suta Dogra


Provocative Idea...

•SGPC adopts resolutions in 2002 and 2005 to raise a memorial for "martyrs" of Operation Bluestar
•The project was shelved in 2008, but revived last year owing to pressure from radical Sikh groups
•Clearance to begin construction inside Golden Temple complex given by the SGPC last week.
•"Martyrs" include Bhindranwale and some of his followers

***
A memorial for 'martyrs' of Operation Bluestar. Radical Sikh groups have demanded one for long; the contentious idea was first proposed in the Shiromani Gurudwara Prabandhak Committee (SGPC) in 2002. The SGPC's recent go-ahead for construction of the structure inside the Golden Temple complex in Amritsar is sure to stir up unrest. Work is scheduled to begin on May 20, a couple of weeks ahead of the 28th anniversary of Operation Bluestar (June 6), a day Sikh groups refer to as "genocide day".

The SGPC is dominated by the ruling Shiromani Akali Dal (SAD); therefore, its clearance of the memorial is seen as backed by the ruling party. In 2002, and again in 2005, the SGPC had adopted resolutions to raise the structure, but the matter was shelved owing to political considerations: the SAD's alliance partner, the BJP, has always counselled a go-slow.

So why now? The probable explanation is that, over the last few years, radical groups have been gaining ground in Punjab and are reinforcing the perception that the Akalis "use religion only to gain political power, not to do anything concrete for the community". In March, the state erupted over the impending hanging of Balwant Singh Rajoana, convicted for the assassination of former Punjab chief minister Beant Singh. Khalistan-seeking groups like the Khalsa Action Committee, Akali Dal Panch Pardhani and Dal Khalsa had called for a bandh to protest Rajoana's hanging and it had seen some violence.






Photograph by HT




Says Prof Gurdarshan Singh Dhillon, author of the SGPC's white paper on Operation Bluestar, "Sikh radicalism is not finished in Punjab. The mobilisation during the bandh has unnerved the Akalis and is clearly the trigger for implementing the demand for a memorial. Chief minister Badal knows suppressing them will not help; he has calculated that it won't hurt to pacify them a little now and then. It's also significant he got the support of these groups in the recent assembly elections."

The opposition Congress has not reacted so far. One leader says, "Our predicament is that we cannot oppose the memorial as it will make us look anti-Sikh. But the fact is that the persons the Akalis want to enshrine as martyrs are regarded as terrorists by the Indian government." Jarnail Singh Bhindranwale, Maj Gen Shabeg Singh and many others killed during the army storming of the Golden Temple in 1984 have already been given a place in the memorial. The BJP is also uneasy.

There's also a debate over the definition of martyr. Will the list include Sikh soldiers who lost their lives in the operation? What about the 28,000 Sikhs who lost their lives during the decade-long militancy? Dal Khalsa secretary Kanwar Pal is categorical: "The memorial is only for the Sikhs killed inside the shrine; it won't include armymen, for they were invaders. For them, it's up to the government to build a memorial." As the community readies itself to build a memorial to a painful chapter in history, many see it as a dangerous move that may give extremist groups a fillip. Prof Manjeet Singh, a sociologist at Punjab University, says, "The Akalis are again playing with fire. This will only embolden radical elements." The growing disquiet is likely to manifest itself as the monument takes shape in the coming months.


source: http://www.outlookindia.com/article.aspx?280881