It started as a hobby. She didn't expect for it to turn into a viral thing, but as a society that is sick and tired of seeing the ridiculous beauty standards of the media and our kids' toys, people latched on to what she did with fervor. Personally, I think this is amazing.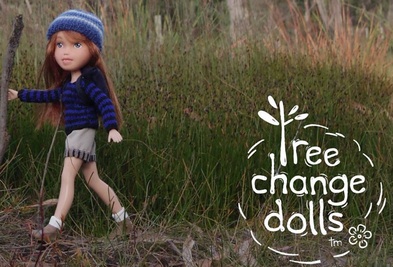 Tree Change Dolls
The Tree Change Dolls™ are the work of Tasmanian artist Sonia Singh. The dolls have been rescued and rehabilitated from op-shops and tip shops around Tasmania. These lil fashion dolls have been given a "tree change", swapping their high-maintenance high-fashion habits for down-to-earth style. Sonia hand repaints the dolls faces, mold new feet or shoes, and my Mum sews and knits their clothing.
Hi everyone,
My sisters and I grew up playing with second-hand dolls and home-made toys in the beautiful Tasmanian natural environment. I love the satisfaction of repairing and reusing discarded items to give them a new lease on life.
I started my little doll project after losing my job as a science communicator following a series of Australian government funding cuts to science research and the CSIRO in September 2014.
Always a creative person and looking for a creative project between looking after my young daughter and looking for employment I began finding unwanted and discarded fashion dolls in the tip shops, op shops and second-hand markets of southern Tasmania. I grew up playing with second-hand toys and many of my daughters were too. I thought I could upcycle the dolls and turn them from discarded plastic waste to a unique toy children might like to play with in the same way I had played with dolls in the outdoors and had great adventures as a child.
I decided to restyle the faces of the dolls by removing the factory paint from the dolls and repainting them by giving them makeunders and a more down to earth style.
I made clothes for the first group of dolls I upcycled but soon my mum, an expert knitter and sewer, offered to clothe the dolls. Now we work together on the Tree Change Dolls. I also started repairing the dolls by making new feet when they were missing. I also fixed the hair by brushing, trimming and styling the hair.
After posing some of the first transformed dolls in my garden and posting photographs of them online (with encouragement from my partner John) at my new blog on tumblr they soon began attracting attention and I found my work going viral! Within days I was getting journalists from all over the world wanting to talk and thousands of messages from people wanting to by dolls. I seem to have triggered a global conversation about the suitability and style of some children's toys.
Australian TV network SBS2 contacted us and we agreed to be filmed for a news story on the dolls. I had just set up a facebook page and it had attracted 10,000 likes which I was quite surprised by. The story was produced by Rani Chaleyer with camera work by Daniel Hartley-Allen and went to air on 10 Feb 2015. It went online a few days later. It was viewed within facebook around 25 million times!! Perhaps you've seen it?
Here's the YouTube version -
Now I have decided to see if Tree Change Dolls is something I can make into a small creative business that allows me to share my skills and share my love of reusing and upcycling dolls that were once considered rubbish or no longer worth playing with. I hope to create resources for people wanting to try it themselves and whatever interesting and creative projects the dolls bring my way.
I am encouraging people to upcycle their own dolls and I hope to remain creative, to collaborate with other creative people, to help get children involved in making their own toys and to work towards helping everybody to look again with fresh eyes at the things we buy and the things we throw out without thinking twice.
Sonia Singh
Hobart, Tasmania
April 2015