On Sunday night I was taking a flight back from San Francisco to Toronto and was stopped by security at San Francisco Airport and ordered into additional screening. Now this is nothing new to me, as I'm a brown dude who flies quite often and these types of extra screening and searchings are regular occurrences. In this specific case however I was asked to remove my turban so it could go through an additional extra check (on top of being x-rayed and metal detected already). Naturally my first inclination was to say nahhhhhh, because I had a flight to catch and taking off a turban and tying it back on before a flight would be extremely inconvenient. I asked to have a pat down instead (i get my clothes patted down, and those too are made of cloth, and I'm never asked to remove those) But the manager insisted that either I would take off my turban and let it through additional security or I would be escorted back into the public area and I could book a flight with a different airline or airport. They had provided a private screening room for me to do so, and after they had done a complete body search and scanned my turban through another x-ray... they came back and told me I was good to go.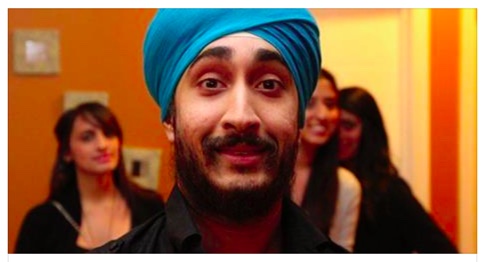 It was at this point I asked for a mirror to retie my turban again, because unlike a hat or a shoe, tying a turban back on takes time and skill (great skill, only the manliest of men know what I'm talking about here)... plus I gotta make sure i look extra crispy and good ALWAYS (my motto in life... most of the time when I'm not lazy of course).The officials responded that they don't provide mirrors and one of them had even told me to walk down the nearest bathroom at the other end of the terminal, in public, without my turban on. Which completely defeats the purpose of being in a private room in the first place... why "undress" me and then tell me to walk out "undressed" to the nearest bathroom to retie my turban again??? WHAT WAS THE POINT?
Now there have been cases where I have shown myself without a turban on videos etc, most notably when I made a turban tying tutorial, so it wasn't too abnormal for me. But I can imagine anyone else in my position who had to go through the same thing, someone who values the turban at a great degree, and how embarrassing and demoralizing the whole scenario would be, since it already was loads for me.
The turban is a sign of royalty, respect, dignity, courage and has a huge cultural and spiritual significance for many Punjabis and Sikhs.
I followed all the security protocols, asked whatever they wanted me to do, so the issue isn't JUST with the fact that I was asked to remove the turban (however silly it still is) but with the lack of respect and insensitivity when I asked for a simple request like a mirror to tie it back on again.
I've included an article that also talks about the ordeal and many thanks to the media today for covering at well. Hopefully we can provide some level of education to these security officials and avoid these types of situations again.
also fun fact: no one has ever found anything dangerous in a turban... ever.
http://www.vice.com/en_ca/read/toronto-youtube-star-jus-reign-was-forced-to-remove-his-turban-at-a-california-airport?utm_source=vicetwitterca