We had the pleasure of interviewing Dr. Balwant Singh Ji Dhillon of GNDU who spent 20 years clearing up Baba Banda Singh Ji Bahadur's name using contemporary/primary sources.
Dr. Dhillon, in a career spanning three decades, has unearthed numerous primary sources in Sikh history and lent new avenues to the world of textual studies. This episode covers:
(a) Banda Singh: Pre-Sikh past.
(b) Banda Singh: Meeting with Guru Gobind Singh Ji and initiation into the Khalsa.
(c) Banda Singh: Paterfamilias of the first Khalsa state.
(d) Banda Singh: Revolutionary social engineer.
(e) Banda Singh: Betrayal.
(f) Banda Singh: Appropriation by Hindu Mahasabha.
(g) Banda Singh: Defended by Sikhs.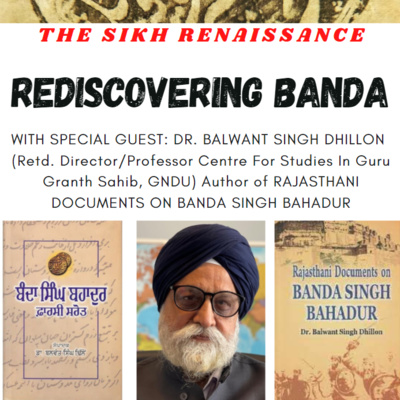 We are joined by special guest Dr. (Prof, Retd.) Balwant Singh Dhillon of GNDU and also Retired Director of Centre For Studies in Guru Granth Sahib (Amritsar) in discussing the life and betrayal of Baba Banda Singh Ji Bahadur as per contemporary Persian sources recorded by eyewitnesses and... anchor.fm