No, I'm not seriously suggesting the monk with the sword that the Dalai Lama saw in a photograph was in fact the Dalai Lama himself — but the notion of a high lama receiving a sacred sword as a gift of honor, from a Sikh no less, does have a certain interest.
*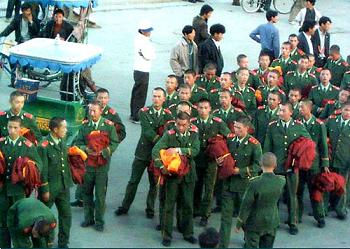 The photo above of Chinese soldiers carrying Tibetan monks' robes which caused something of a stir in the blogosphere recently "was apparently made when monks refused to play as actors in a movie, so soldiers were ordered to put on robes" — so despite its featuring on the back cover of the
Tibetan Center for Human Rights and Democracy's 2003 sitrep
, it is hardly corroborative of the claim that Chinese soldiers dress up as Tibetan monks to foment violence, as reported by Gordon Thomas in the subscribers only G2 Bulletin, and
reprinted in Epoch Times:
Britain's GCHQ, the government communications agency that electronically monitors half the world from space, has confirmed the claim by the Dalai Lama that agents of the Chinese People's Liberation Army, the PLA, posing as monks, triggered the riots that have left hundreds of Tibetans dead or injured.
​
Similarly, the widely seen photo of a policeman about to hit a Buddhist monk:
was in fact taken in Nepal, where Chinese influence has been containing pro-Tibetan sentiment — quite forcefully, as this image suggests.
*
The moral of this story, if any?
In a world of photoshopping and other forms of propaganda, we need to be especially careful with evidence which appears to support our personal predilections. My own sympathies are clearly with the Tibetans as against the Han Chinese here — and His Holiness may well be right, the Chinese army may indeed be sending in some of their own, dressed in monks' robes, to foment trouble.
And then again, as Samdhong Rinpoche, prime minister of the Tibetan Government in exile puts it:
If monks want to fight, they have to disrobe and join the fighters.
​
You just never can tell…