W
hen the evolution of the concept of nation states got perfected in Europe in the 19th century, the conscripted armed levies were, as a rule, replaced by standing armies. The British were quick to exploit this new lethal instrument of governance to consolidate their overseas colonies into an "empire over which the sun never sets."
​
That the British were able to rule over their empire in India for over 100 years with relative ease, was to a great measure aided by a well-cared and most contented standing Army. However, this lesson seems to have been generally lost on the Government of independent India post-1947, as becomes evident from the news carried by The Tribune recently that the "widow of a World War II soldier gets full pension after 64 years." When this fateful decision was announced by the 92nd Defence Adalat held at Guntur (Kerela), that widow was a ripe 88 years old. This gross neglect ought to be the national shame, if there ever was one.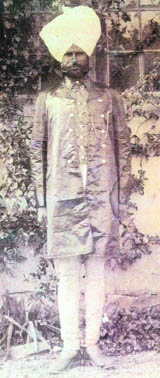 ​
Subedar Kaka Singh of 54 Sikh Battalion wearing the Sunday "walking-out" dress in January, 1908, at Nowshera cantonment







​
In colonial India, the welfare of the soldiery was not the domain of the Army leadership alone, but rather an impulsively orchestrated effort by all departments of the civil administration. There is nothing which demonstrates this tenet of colonial policy better than the life of one Subedar Kaka Singh of 54 Sikh Battalion, post-retirement over 100 years ago in January, 1908.
​
Among the memorabilia preserved by the family of the Subedar, there is this testimonial given to him by his commanding officer:
​
"Subedar Kaka Singh, son of Bela Singh, has served in the 4th and 54 Sikhs for upward of 25 years, and has been a Native Officer in the Regiment since February, 1897. He has served six times in expeditions (battles) on the NW Frontier. He served two years as Native Officer Instructor at the School of Musketry, Chaangla Gali. He is very smart, energetic and an intelligent officer. He has applied to go on pension because his wife is very ill, and he must give up his time to her.
​
"I consider him an exceptionally able officer, and hope he will obtain some good appointment near his home."
​
Kenneth Buchanan
Lt Col
Comdg 54 Sikh PF
06.01.1908 ''

​
The Subedar was the scion of the leading feudal family of Bhairupa (in today's Bathinda district of Punjab) village with assured material security. So, on returning home, his sole concern was to seek out the best medical facility to treat his wife's ailment. He learnt that the railway hospital at Bathinda junction was the best option.
​
Armed with the testimonial, he sought an interview with the Superintendent of Railways, Bathinda. The railway rules were silent on providing medical treatment to retired soldiers and their kin. But on the strength of the Army testimonial, the superintendent suggested that Kaka Singh may seek re-employment with the Railways.
​
The happy up-shot of that meeting was that two months later, Subedar Kaka Singh assumed the post of the Chief Inspector, Railway Tracks, and moved into a bungalow at Bathinda. His area of responsibility was the track from Bathinda to Lahore. While he learnt and performed his duties with military precision, his wife steadily but surely regained health in the care of the railway hospital staff.
​
Now in the post-1947 India, the case of sepoy Lakshmana Rao, who died in the fading days of World War II, and the paltry pension awarded to his widow Thota Venkatasubbamma (Amma), remained a non-issue. She was handed the princely sum of Rs 16 as monthly pension, and another Rs 4 as "child allowance", beginning 1945 right up to June, 2009. It was a multi-tiered institutional failure, but more notably at two levels. First and foremost was the utter lack of concern shown by the Indian Defence Account auditors, who have the reputation of possessing hawk's eyes. It is, indeed, strange that this discrepancy escaped their notice and their empathy. Even more shocking is the revelation that the Soldiers, Sailors, Airmen Board, which has an office down to each district headquarters in the entire country, should have been so apathetic that it took 63 years for redressal of such a grievous miscarriage of war pensionary award.
​
Amma was widowed at 24. Besides rearing a small child, she was also obliged to care for the ageing parents of her deceased husband. And what would the Rs 20 per month pension have provided for four? Even back in the 1950s/60s, no more than one rationed meal of chapattis and lentil and one cup of brown tea for the whole day. Was Amma lucky to get material and moral support from her family? Was her child driven to child labour?
​
What good is the Rs 3.70 lakh now paid in arrears of war pension when Amma is 88. How can this money recompense for the lost times and shattered dreams and extinguished hopes of a bright future for her only child?
​
The Indian soldiery has never been found wanting, and certainly not in the post-1947 India. Yet the nation has seldom shown inclination to adequately understand their concerns and articulate them dispassionately and vigorously such that the soldiery's grievances are redressed with alacrity and concern, always.
​