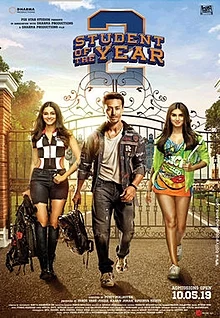 Student of the year part 2 has a similar setting like part one---a posh college looking like something from a foreign country with westernised crowd and westernised lingo. Ordinary words like 'change' are to be upgraded to words like 'evolve' . The girls are wearing very short skirts and the guys' fave hangout is the local nightclub .
Into this rarefied setting comes an outsider---a poor boy on a sports scholarship who is looking to try to hook up again with his girlfriend Mridula ( Tara Sutaria ) who has changed her name to Mia after she got admission to this college and who tries to avoid him . The boy is Rohan Sachdev ( Tiger Shroff ) . He gets into trouble with the college trustee's daughter Shreya ( Ananya Pandey ) who is a big prankster and who targets him .
Shreya's brother Manav ( Aditya Seal ) acts nice at first and takes Rohan under his wing , only to discover that Rohan has too much talent to remain just his sidekick . Rohan challenges Manav both in sports and in dance . And then emerges the dark side of Manav . And also emerges the vulnerable side of the big prankster Shreya , who falls for Rohan's gentlemanliness like a ton of bricks .
The problem with the budding romances is---no one is sure whom to love . Mia/Mridula's attraction oscillates between Manav and Rohan . And Rohan's love oscillates between Shreya and Mridula . But Manav's hate is not oscillating . He is sure whom to hate---Rohan . And has Rohan rusticated from the college using his father's influence as trustee . Manav has to go back to the poorer college he once studied at and the poor friends he once had .
But it is those poor friends who stand by him when he decides to take revenge on Manav by beating him in sports---the dignity cup , which is the inter collegiate sports competition in which Manav has led his collage to be winner in the past . Problem is , there is no heart in the mouth moment as the rivals lock horns in the dignity cup . The ending in which there can be only one obvious winner ( good always triumphs over evil doesn't it ) is as tepid as it gets .
What is more interesting is the oscillation of the would be lovers unsure of whom to love , but having decent chemistry with each other . While the movie does not provide the zing when the protagonists are in confrontational mode , it does give us some interesting moments when the same people are grappling with problems of love . So the movie does have a good build up to it's plot for some time with some good looking girls and boys ( even the villain is good looking ) interacting and dancing and singing .
Acting and choreography and background music is okay . Colours and photography and fight scenes are okay too . Songs are decent . If your expectations are not weighed down by comparisons with part one then the movie is a one time watch .
Verdict---Decent .
Three stars out of five .