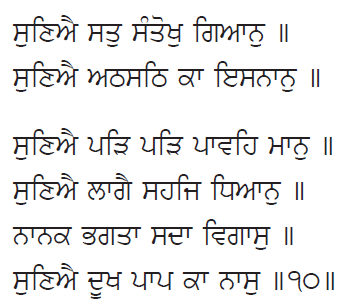 Suniye By Listening ie Listen through Ears Accept and Save as explained in previous Steps
Sat Listening TRUTH
Santokh Patience
Gyan Knowledge SELF AWARENESS
Suniye By Listening TRUTH one is able to understand one OWN Memory System and stored Information a
Athsath And By Understanding one can make erase ie deliberate ones memory system to remove negative thinking and vices,
This awareness and process followance execution is equivalent to getting cleansing bath at 68 sacred pilgrim places.
One has not to go anywhere just listen and follow TRITH of own selfie and can do cleansing than and there. Reaching ie Understandin own MIND and cleaning negative memory is the highest pilgrimage one can perform
Just By Understanding and doing this, and reading more about own TRUTH, one gets respected.
As a result
Suniye : By Listening
Lagey Sehaj Dhyan One gets Meditation with Ease (ie one is physically and mentally present simultaneously) as listening improve due to available Memory Space and less of positive and negative distractions of outer world, due to inner memory stores.
There is no YOGA required for MEDITATION, by cleaning of MEMORY Stores, it happens with EASE. One can be Physically and Mentally available.
Nanak Say Nanak those Serving on this TRUTH are always in BLISS.
Last edited: