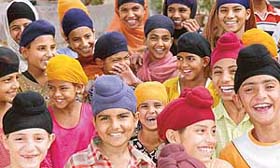 Orphans, who were uprooted from the gurdwara demolished in Dadu Majra on Tuesday, beam with joy at their new home at the Guru Aasra Trust in Palsora village of Chandigarh on Wednesday.
— A Tribune photograph
Displaced orphans find new haven
Smiles back on their faces as Guru Aasra Trust adopts them
Sanjeev Singh Bariana
Tribune News Service
Chandigarh, April 27
Tears rolling down the cheeks of nearly 40 orphans displaced yesterday from the gurdwara demolished in Dadu Majra gave way to smiles today. Happiness of the poor children knew no bounds in the new haven at the Guru Aasra Trust in Palsora village.
The impeccant smiles had returned on the tender faces and games of fun and frolic could be witnessed on the trust compound when the Tribune correspondent visited them. A sevadar said, "They appear like tender lambs. I wish I could say with guarantee that they will forget all their troubles and take on challenges of life without any fear, at least for their home".
Rajbir Kaur, who was totally shattered yesterday, looked composed today. "I want to leave the past behind me and prepare myself for a better future", she said.
Kuldeep Kaur was all smiles when she said, "I thought I will not get another nest when we sat unattended on the pavements yesterday. I thought my future now lay on the roads. The boarding facility now comes as a great help. The struggle in life till date has only made me stronger. I will always keep lives of parentless children in my mind when I grow up and will like to dedicate my life for their welfare".
The Municipal Corporation authorities sent in supplies of sugar and flour. An offer of giving five seats to the orphans in the Bal Niketan was also extended.
Bhai Kanwar Singh Dhami, an office-bearer of the Guru Aasra Trust, said, "The trust here has sufficient place to house these children. The Administration can help the children in their education and other ways. I have convened a meeting of the trust members tomorrow. I am likely to resign from the trust because of differences over taking care of these children. I might start another trust."
Bhai Dhami said, "I will like to clarify one thing. Certain people were saying that the children were transported to the gurdwara in Dadu Majra only a few days back to get publicity. This is absolutely incorrect. Newspaper clippings will show that Alka, the invalid bedridden girl, is staying there for the past more than two years. Reports have also been published about the activities of other students over a period of time".
A sevadar said, "The first aim of the authorities should be to rehabilitate these children. Instead of going into the trust politics the Administration should respond to the needs of the children. Isn't it strange that the Administration always comes forward with schemes to rehabilitate the slum dwellers? Can nothing be done for these children just because they don't have any strong voice to back them?"