Sikhs Open a Water Treatment Plant in Haiti
Over 5000 Survivors of the 2010 Earthquake have Access to Clean Drinking Water.
UNITED SIKHS honored with a Haitian National Flag.
In its continuous efforts to rebuild and rehabilitate Haiti and provide humanitarian relief in the aftermath of the 2010 earthquake, UNITED SIKHS opened a water treatment plant on March 31st 2012. This plant provides clean drinking water, by a reverse osmosis system process to over 5000 Haitians on a daily basis. The project is an effort to address the severity of a cholera epidemic and other water related illnesses that cause sickness, death and destabilize a nation.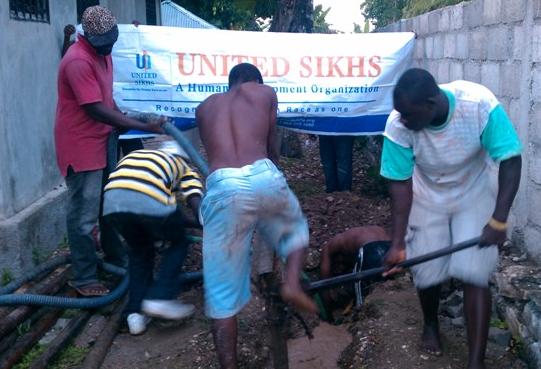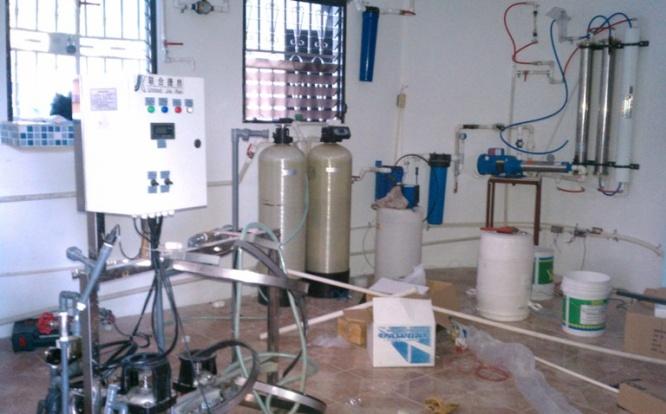 "It is an honor to meet such a great organization that brings the first water plant to Aux Cayes. Hope you will continue working with us. We need hospitals and medical assistance for women who are dying of childbirth," stated Astrel Dolne, Deputy of Aux Caye.
United Nations' Statistics
600,000 Haitians still without shelter
General population is extremely vulnerable and faces food insecurity and the threat of cholera.
The Cholera death toll has neared 6,500 over the past year
UNITED SIKHS' finding
Sanitation and the provision of safe water is a national priority.
It takes 5 liters of well water to make 1 liter of clean bottled water.
Average Haitian family uses 5 gallons of water per day.
Almost 70 percent of the available fresh water gets used for irrigation in agriculture.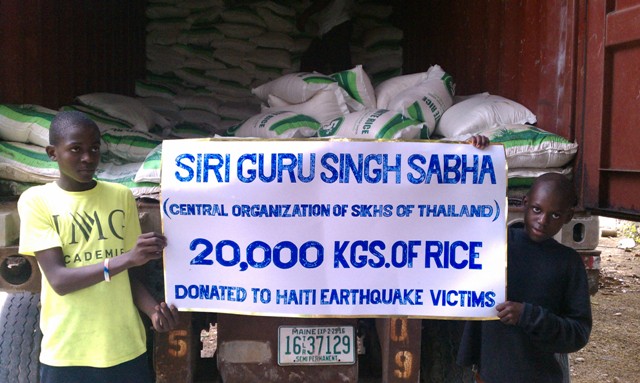 "Your organization is welcome in our country. If you need any assistance our office will support you 100 percent," said Ernst Voltaire, Mayor of Torbeck
"The Haitian people would like to extend their hands to say thank you to UNITED SIKHS for sponsoring a water treatment plant and compound for the community in Aux Cayes, " said Jeudy Fenel, Inspector of Education.
2011 Updates:
UNITED SIKHS distributed 20 tons of rice to over 25 orphanages and make-shift camps to enable the feeding of over an estimated 250,000 meals. Sri Guru Singh Sabha Gurdwara of Thailand donated the rice. The UNITED SIKHS Aid team shipped the rice to Haiti and set up distribution in Santo la Plaine, Port-au-Prince, Cite Soleil, Aux Cayes, Montrouis, Mirebalais and Coteaux Port Salut. Deputies in each area assisted the team in distribution.
Institution Academic Culture D'Haiti (IACH) is a UNITED SIKHS sponsored school project looked after by Ishmeet Singh. IACH is located in Karefour, Port-au-Prince and run by Director Ernso Francois with the assistance of 9 teachers. It has an enrollment of a 125 students and holds classes from KG to 6th Grade. Hero Haiti, an education focused NGO provides expert guidance to IACH.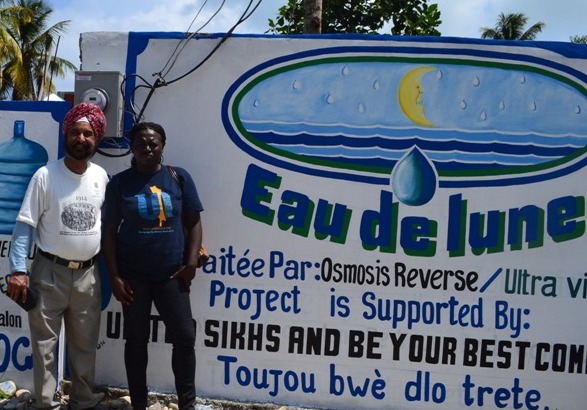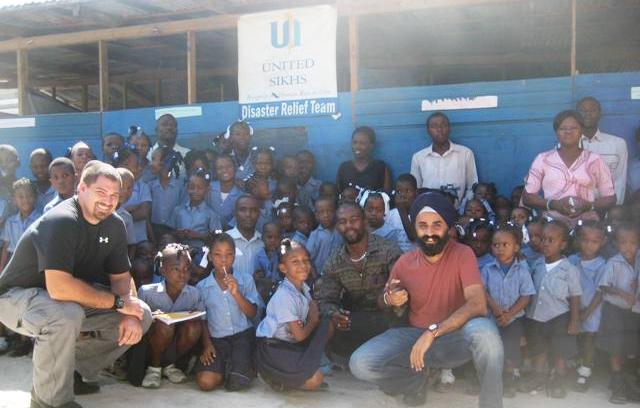 Lun Charles and Amritpal Singh at Haiti Water Plant Ishmeet Singh & Steve Kirby at UNITED SIKHS sponsored school "UNITED SIKHS pays the entire salary of all teachers. We though still need better infrastructure for classrooms and more equipment to provide a more vibrant education to our children," said Mr. Ernso Francois, Director IACH.
In this turbulent situation significant humanitarian needs remain and must be addressed, we all need to step up as leaders and coordinate our efforts," said Kuldip Singh, President UNITED SIKHS-USA.
"I want everyone to remember that the humanitarian crisis is not over. We cannot forget the hundreds of thousands of jobless people who are living in camps. We shall continue to support Haiti," said Bikramjit Singh, President Guru Nanak Sikh Gurudwara, Delta-Surrey, BC, Canada.
UNITED SIKHS volunteers continue to work on international relief efforts including bringing awareness to the immediate need of medical attention, food, water and shelter to thousands of Haitians. Your donation of any amount could help save lives and have a lasting impact on a family in need by providing food, water, temporary shelter, medical services and emotional support.
$100 per month sponsors the education of 12 children.
Donate now
.
Relief services provided post 2010 Earthquake
Year Services Provided Expenses (USD) 2012
(Till May) Medical Camp – Apr 7,000 Water Treatment Plant, Aux Cayes City – Mar 39,000 IACH School Sponsorship – Yearly 20,000 Distribution of Clothes and Kids Toys – Feb 5,000 Aux Cayes School teacher's Salary – May 500 Volunteer support In-Kind 25,000 Sub Total $96,500 2011 2011 IACH School Sponsorship – Yearly 20,000 Rice Shipment & Distribution – Oct 18,000 Distribution of Cloths and Kids Toys – Feb-Dec 7,000 Cholera Awareness - May 2,000 Volunteer support In-Kind 33,500 Sub Total $80,500 2010 Meal Served - Jan-Apr 113,000 Food and Supplies distributed – Apr-Aug 63,000 Shelter provided to 5000 survivors 25,000 Medical Supplies – Feb-Apr 85,000 Volunteers Hours In-Kind of 85 ppl 350,000 Sub Total $636,000 Grand Total: $813,000
Bring the substantive change and impact in someone's life. Be the angel that helps children realize their dream.
Engage with UNITED SIKHS and make an impact, a difference, and a change within your community.
Contribute to UNITED SIKHS through a local chapter in your country
www.unitedsikhs.org/contact.php
Issued by:
Gurvinder Singh
Director
E:
sikhaid@unitedsikhs.org
P: 888-243-1690 | 646-688-3525