GO SWAN!

Malaysia's SWAN -
Sikh Women's Awareness Networkby DYA SINGH
[Editor:
The author, Dya Singh, is no ordinary soul. A musician who was born and brought up in Malaysia, he now lives in Melbourne, Australia. He travels the world with his band, which includes a crew of wonderful instrumentalists and his three talented daughters, singing Sikh spiritual songs and playing Sikh and world music for both Sikh and non-Sikh audiences. For no small reason, he is proclaimed the world over as the natural heir to Nusrat Fateh Ali Khan, the late doyen of world music. Recently, in May 2009, he undertook his annual march across Malaysia, a routine that has become a regular event to support one community cause or the other. This year, he was accompanied by the famous musician, Vikram Singh (formerly Vic Briggs, lead guitarist of the 60's pop group, the "Animals'") and a number of others; they walked over 170 km. from Kuala Lumpur to Melaka (in Malaysia) to coincide with a local festival (the annual fair marking the anniversary of Baba Sohan Singh ji). The walk, dubbed the "Unity Walk" , is geared to raising greater awareness of the necessity of physical exercise and the outdoors for all.

This year's walk also intended to draw a spotlight on the work of SWAN - Malaysia's Sikh Women's Awareness Network - which also co-sponsored this year's walk and helped organize it throughout.]


The swan is one of the most beautiful, graceful and elegant of birds. Therefore, the word makes such a lovely acronym for a Sikh women's organization, run by women, to look after the needs of women!
Though Sikhism preaches complete equality for women alongside men, its members have fallen under the influence of the patriarchal majority communities they find themselves in and often fail in this in actual practice.
If men do cater for any needs of women, it is normally as a fringe issue. This is not anyone's fault, because no formal Sikh mainstream organizations seem to be set up with women's needs as the focus specifically.
So, quite rightly, women have to take up that challenge themselves - "women's business" - for women, about women, by women.
In Malaysia, that need appears to have been ably fulfilled by SWAN.
The Sikh Women's Awareness Network ("SWAN")
has become a shining example and a role model, I believe, for women around the globe - to look after their special needs, to act as a pressure group for lobbying purposes and especially as a support group for the welfare and advancement of women.
The organization came into being in 2000 as an idea borne out of the "Akal Purakh Ki Fauj" organization (APKF) which has now become an international organization spearheaded by Bhai Autar Singh Ji of Malaysia, a former "jathedar" of the Sikh Naujawan Sabha Malaysia and also a prime architect of the premier, and the first, of internet Sikh discussion groups, "Gurmat Learning Zone".
As APKF's leadership in Malaysia was predominantly female, it proved to be the perfect lynchpin for SWAN as an organization to reach out to more women.
Furthermore, for the Malaysian chapter, to harness assistance and support from government agencies, especially the Ministry for Women, Family and Community Development, it was found that women could not depend on any other Sikh organisation, but needed to form an organization of their own.
Under the guidance of S. Autar Singh and the capable leadership of his wife, Rajinder Kaur, alongside some prominent Sikh women in Kuala Lumpur such as Professor Kuldip Kaur, Associate Professor Kiranjit Kaur and Dr. Manjit Kaur (current President), SWAN came into existence ...
"... to help improve the quality of life of Malaysian Sikh women and their families - to empower women to build happy and dynamic families ready to face the challenges of globalisation through harmonious and holistic developmental programmes".
[President's report from SWAN newsletter: Issue 1 - January 2006.]
Ms. Sharizat (the Federal Minister for Women, Family and Community Development) encouraged SWAN to get registered as a Society to get direct funding for its activities. Membership spread quickly throughout the peninsula, including far-away Sarawak on the island of Borneo (also part of Malaysia), as projects like immunisation programs, exclusive health checks for women, self-improvement programmes, courses on how to manage finances, sewing, gourmet cooking and other such activities began.
A quick glimpse through their annual reports and newsletters shows a flurry of activities being conducted exclusively for women and children. Besides the projects mentioned earlier, there are classes, workshops, seminars and forums on a wide spectrum of activities like: health and legal awareness; health screening (pap smear) camps and other women's health awareness camps by specialists; life enrichment camps; workshops on single mothers -
"Standing Tall",
for example; floral arrangement courses; web design and computer literacy programmes; how to set up a small business; career talks; pre-marriage counselling courses; public speaking courses; healthy eating habits and good diet; skincare; self-empowerment courses; breast cancer awareness campaigns; menopause counselling and medical knowledge to deal with it; even Sukhmani Sahib prayers for Tsunami victims and special Vaisakhi celebration programmes!
Various local self-improvement experts, like Mrs. Jagjit Singh and former national footballer and now football commentator Shebby Singh, work tirelessly to hold nationwide classes on women's self-improvement and empowerment, child-raising, motivational, study skills, medical and health issues, etc.
I had the honour of interacting with some of the current committee members who were actively involved with our "walk" from Kuala Lumpur to Melaka (about 170km) recently (May 2009), which SWAN helped to manage and publicize - a job I must say, which was handled with precision and professionalism.
It was this professionalism that piqued my interest in SWAN, yet a fledgling organization, but one which seemed to be doing a tremendous amount of good amongst Sikh women here.
Prominent amongst these dynamic ladies are Dr. Manjit Kaur (the current president), Bibi Harbans Kaur, (the logistics "workhorse",) immediate past president Rajinder Kaur and one I affectionately call "the mouthpiece" - Gina (Gurmeet Kaur), who is a very popular radio DJ in the Malay language, doing a popular programme on Bollywood music and stars.
She reputedly has a "following" of 3.2 million listeners predominantly of Malay origin! I listened to her on radio one evening and was bowled over at her command of the Malay language and the occasional Punjabi, English and Hindi thrown in, and the warmth and response of her listeners on talk-back.
Below are some interesting views gleaned from them in conversation.
Q. How do you manage such a vast spectrum of activities?


There is a great deal of hard work involved but we do have great support from not only other Sikh organizations, but also other women's organizations and government and NGO's, especially gurdwaras, to carry out our activities.
Q. How do Sikh men generally react/respond to the various activities that you conduct?

After much laughter and statements of - "we cannot answer that on the grounds that we might incriminate ourselves"- I was able to get this out of them:


"In general, we have wide support from men, but there will always be the "knockers", which we believe is good because they keep us on our toes and sometimes their negative views give us something to think about, and positives can always come out of their negativities. Our own menfolk give us tremendous support for us to continue with this work of supporting and elevating our womenfolk. Single mothers, especially divorced mothers and mothers with incapacitated husbands, sometimes get a rough ride within the community, but SWAN has made headway in helping them along, and raising their self-esteem because they now have an organization to which they can belong without prejudice and though there is great transparency about our activities and especially the accounts, we do have complete confidentiality for individual welfare cases."
(
Members would not comment on what they meant by "rough ride", but I believe that stems from the fact that our gurdwaras and gurdwara committees are not well equipped to help welfare cases "in confidence". Any welfare help that is extended becomes public knowledge, to the embarrassment of the recipients. There are also cases of whole Sikh families, let alone individuals, converting to Christianity just because Christian organizations came to their aid, with no aid forthcoming from Sikh organizations. There are a few other Sikh "welfare'"organizations one hears of but as to how effective they are, is hard to gauge. In some cases, one only hears about them when they hold lavish "dinners'"as a means to collect money for their charity work!
)
Q. What kind of interaction, or reaction, do you get from other Sikh organizations?


In general, we have good support from our Malaysian Gurdwara Council, and the Sikh Naujawan Sabha. The Akal Purakh Ki Fauj is one organization which is always there to give a hand, because it is predominantly run by womenfolk and is about raising our children the Sikhi way and into the 21st century.
But there are times when issues which we feel are important are not considered important enough by other Sikh organizations. For example, the issue of pre-marriage counselling. This project was launched as "Smartstart" by the Ministry of Women, Family and Community Development, Malaysia. Two SWAN committee members were involved in the development of this module. We were taken aback when other national Sikh organizations - the Malaysian Gurdwara Council, for example - generally felt that the few minutes of impromptu
sikhya
(advice) given by the granthi just before the Lavan, was adequate advice and education for a newlywed couple! Therefore, we have to fight to ensure that issues like these are implemented throughout the country, notwithstanding what other Sikh organizations may or may not think.
SWAN is a far cry from the traditional
"issteri satsang"
concept that we know of traditionally. This is an organization which looks not only after the spiritual and social needs of Sikh women but also their economic, intellectual and physical wellbeing - their self-esteem, freedom from physical and psychological abuse and insistence on sharing of household responsibilities by their menfolk.
This is what Bibi Harbans Kaur, the vice-President, had to say:
"SWAN's executive committee comprises of volunteers. They are diligent and committed to creating awareness and give their time to charity work to help empower other women so that they can make a difference. The organization believes that they can undertake any activity, as women play many roles in society and recognizes that women are the pillars of society, hence, their wide and varied programmes and activities not only catering for the healthy development of women, but also to enrich their families and in the process, the entire community."
The organization has "cut its teeth", so to speak, at the community level, and now have ambitious plans to work with the mainstream of Malaysian society and network with individuals and organizations to eradicate factors that contribute to poverty and gender, ethnic and religious inequality.
It appears that Malaysia has a very strong network of women's organizations to attend to women's issues within the country and SWAN has fitted into this network with some impact, for progress of Sikh women, in fact, all women, in Malaysia.
All I can say is that SWAN is giving Malaysian Sikhs and male dominated Sikh organizations a run for their money and making it possible for women, to fall in line with Nanak's view of
"So keo mendha aakhiyai jit jamay raajan".
(Why consider those less, who give birth to kings?)
What next? Bungy-jumping? Para-gliding?
Why not!
Go, SWAN!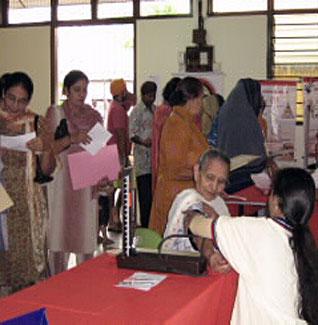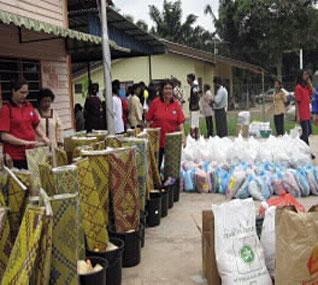 SOURCEsikhchic.com | The Art and Culture of the Diaspora | Malaysia's SWAN - Sikh Women's Awareness Network