November 10 2009
24th Katik (Samvat 541 Nanakshahi)
Press Release
Sikh Leaders Advocate for Civil and Human Rights Issues at First Sikh Summit
Washington, DC, USA:
Sikh leaders from around the country met with federal government officials earlier this week to advocate for important Sikh civil and human rights issues at the first Sikh Summit in Washington D.C. The delegation of thirteen, led by members of UNITED SIKHS, attended meetings with the House Committee on Homeland Security, the United States Commission on International Religious Freedom (USCIRF), and the White House Office of Public Engagement.
Following up on relevant parts of the
2008 Global Sikh Civil Rights Report
, Sikh leaders raised various international and domestic civil and human rights issues, additionally giving recommendations for successful resolution. The delegation addressed a range of international issues from the lack of judicial prosecution for the perpetrators of atrocities committed against the Sikh community in 1984 in India, the Right to Turban campaign in France, and minority rights in Pakistan, to domestic issues of racial and religious profiling, employment discrimination, TSA screening procedures, misidentification on no-fly lists, and the counting of Sikhs by the US Census.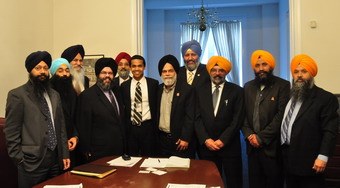 Sikh Delegation Meets with White House Office of Public Engagement; from L to R - Kuldip Singh, Jaspreet Singh, Mohinder Singh, Harpreet Singh, Paul Montiero, Bakhshish Singh, Harpreet Singh, Balvinder Singh, Gurdial Singh, Dr. Ranjit Singh
Commenting on the Summit, Harpreet Singh, Legal Director, UNITED SIKHS stated, "It is important for Sikhs to advocate for their civil and human rights and to get involved in the political process. We urge Sikhs to develop relationships with their political leaders, and to apprise them of the issues that we face as a community." Jasjit Singh, Associate Executive Director for the Sikh American Legal Defense and Education Fund (SALDEF) added, "These efforts are critical in keeping the Government informed of the challenges Sikhs face, both domestically and internationally."
The government officials were receptive to the ideas and issues presented and expressed keen interest in concerns of the Sikh community. In particular, USCIRF is continuing to investigate and monitor Sikh issues in India, France, and Belgium, and the Committee on Homeland Security is investigating the redress procedures for misidentification on no fly-lists.
Harpreet Singh Sandhu, Ex-City Councilman Richmond, California and Executive Board Member of the California Democratic Party commented, "These meetings were an opportunity to delve into issues that concern many minorities, and affect many lives. Our faith based ideas and practices define who we are, and the right to practice our faith freely is a basic civil and human right that every American should have."
Master Mohinder Singh, Elected Official, Queens Democratic Committee in New York commented, "The Sikh community requires more efforts such as the Sikh Summit, to advocate for their civil and human rights in a variety of forums so that the right people can be made aware of the issues on hand and an impact can be made at a policy level. The Sikh community is grateful for the opportunity to present their issues and be part of promoting solutions."
Dr. Ranjit Singh, Director, Voices for Freedom stated, "Sikhs have become an integral part of American society, and have been successful in all major fields. The issues that Sikhs face are of national concern, and we are pleased for the chance to have an open dialogue and work toward resolution."
Stemming from the First Global Sikh Civil Rights Conference in December 2008, the Sikh Summit was developed through the combined efforts of many Sikh organizations. The 2nd Global Sikh Civil Rights Conference is taking place from December 18-20, 2009, in Toronto, Canada. For more information and to register, please visit:
www.unitedsikhs.org/globalconference.
UNITED SIKHS will continue to actively monitor and advocate the issues facing the Sikh community to ensure their successful resolution. We will be holding a second Sikh Summit in November 2010, and will be conducting townhall meetings in your region throughout the year to take your civil rights concerns to the appropriate agencies. Please contact us to report your concerns by email at
law-usa@unitedsikhs.org
or by phone at 888-243-1690.
For a previous press release on UNITED SIKHS' advocacy efforts, please visit:
UNITED SIKHS
Issued by:
Jaspreet Singh Staff Attorney
UNITED SIKHS
(646) 315-3909
law-usa@unitedsikhs.org
Forwarded by Tejwant Singh ji Malik