In this hour of great tragedy in Paris, the Sikh community has earned praise on Twitter. Their generosity in opening doors of their houses and offering shelter and food in gurdwaras has earned then accolades. Tweets say the community has put behind its unhappiness over the ban on turban in France and have won hearts through selfless service. As people were told to try stay indoors wherever they were after the bomb blasts, it became imperative for those on streets to seek shelter indoors. The Sikhs provided that, say the tweets.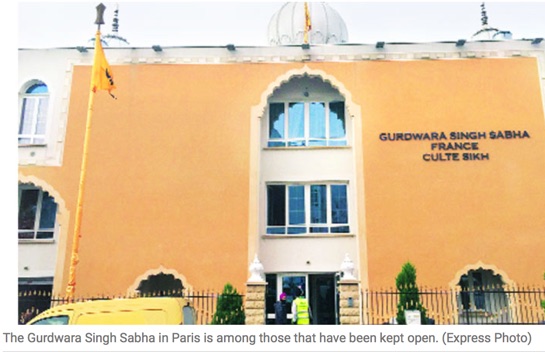 Through hashtag #PorteOuverte, which means doors are open, French residents and Sikhs took to Twitter and other social media sites offering food and shelter to the needy. They donated blood as well. May God bless the Sikhs for your hospitality and kindness #PorteOuverte #Paris, tweeted Howard Roark. Tred tweeted: "Let us hope that Paris remembers this favor of the Sikhs and overturns the turban ban" "Paris needs a hug. Sikhs are awesome," said Liz Mitchell. "Sikhs are great people, opened the temples in Paris to house people to protect them from the monsters," said Everton Moaner.
The Sikh community in France and UK stepped up to help people in the French capital Paris, where multiple terror strikes left more than 120 people dead, by arranging for safe shelter, providing free cab service and blood donation camps.
Gurdwaras in Paris decided to keep their doors open night and day for those stranded after the attacks. They publicized their move over social networking sites like Facebook and Twitter with the #PorteOuverte (Doors open). Leading the charge was Gurudwara Singh Sabha in Paris along with Conseil Representatif Des Sikhs De France (Representative Council of Sikhs of France), Sikh Helping Hand, Mairie De Bobigny (office of Mayor Of Bobigny) and Prefecture De Seine Saint Denis.
Speaking to The Sunday Express over phone, Ranjit G Singh, director public affairs, Representative Council of Sikhs France, said, "It was a horrifying scene as endless gunshots were fired. We were in district 5 and it happened in district 10, few kilometres from here. We were busy watching the football match and suddenly we heard loud noises. Soon, we came out and saw the military take over the streets. We were sure that something had gone seriously wrong." He added that eight gurdwaras in Paris would be open throughout night and day to welcome the needy.
"We have already started with blood donation at Hospital Avincennes, 93000 Bobigny and people have started lining up to give blood," he said. He added that Sikh cab drivers were also ferrying people to their homes for free.
Source: Indian Express