London:
A UK-based Sikh charity has won widespread praise for taking proactive action in distributing bottles of water to passengers stranded at a UK border crossing over the weekend.
Khalsa Aid volunteers swung into action when they heard the news of huge traffic pile-ups at the Port of Dover, the border crossing between Britain and France, due to border staff struggling to cope with increased security checks.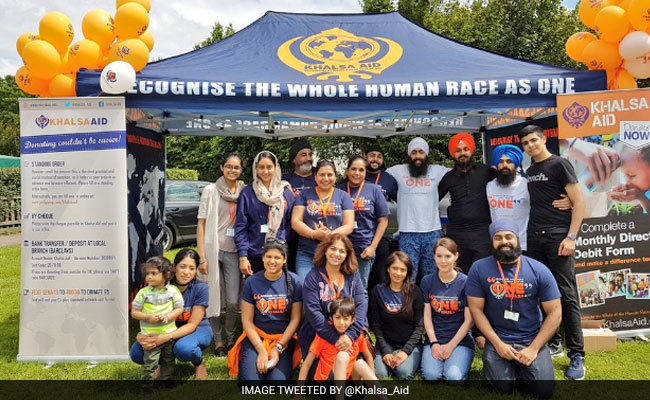 "There was just total frustration. People didn't know what was going on. They could see the queues in front. I asked people what time their ferry was and they said they had already missed it. People were very, very frustrated and pulling their hair out," said Ravinder Singh, CEO of Khalsa Aid, based at Slough in south-east England.
His volunteers loaded up two vans with over 6,000 bottles of water and a number of cereal bars to distribute to the stranded passengers on one of the hottest weekends in the UK.
"It was very strange to see people keen for water in a country so developed," Singh said.
His charity, which provides humanitarian aid in disaster areas and conflict zones around the world and also helps provide aid during disasters in the UK such as floods, was widely thanked for its "kindness" and "selflessness" on social media.
Meanwhile, local police warned that travelers crossing the Dover port on to France from the UK by ferry face delays for several weeks.
The major pile-up was a result of new heightened security checks in the wake of terror attacks across Europe as well as a school holiday exodus.
UK officials have been trying to assist French border security to speed things up.
At one stage there were 12-mile tailbacks and people endured 15-hour waits, with many forced to sleep in their vehicles overnight.
"I am very ashamed of this situation. I am so sorry for the British passengers starting their holiday with so long a wait because of controls. When we know that there will be big traffic it should be organised," said Jean-Marc Puissesseau, the president of the Cote d'Opale chamber of commerce that runs the French side of the port in Calais.
Meanwhile, holidaymakers are expected to face further delays as the backlog gradually clears.