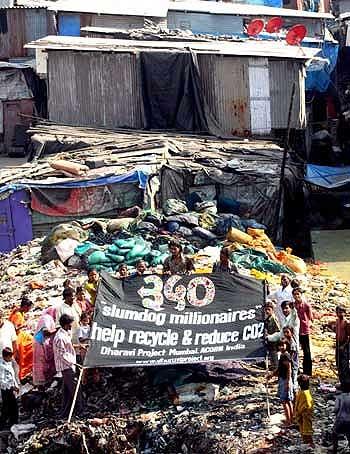 On Saturday, crores of people across the world participated in 4000 simultaneous events in over 170 countries, to urge world leaders to support a clear solution to the climate change crisis. The events, organised by the Association of Community Organisations for Reform Now and the grassroots campaign 350.org, are seeking global action to reduce the level of carbon dioxide in the atmosphere to 350 parts per million
The Indian unit of ACORN on Saturday organised an event in Dharavi, Mumbai [ Images ], led by its members, who work in one of Asia's largest recycling industries.
According to a press release by the organisation, the rag pickers of ACORN's Dharavi Project highlighted India's contribution in recycling waste and reducing carbon dioxide levels.
The rag pickers put up a giant banner made of waste products, which is recycled by them on a daily basis, to support the campaign.
Members of ACORN also distributed paper bags to the residents of Dharavi to replace the hazardous plastic bags used by them.
Other events to highlight the urgent environmental issue include major rallies at iconic landmarks like the Taj Mahal [ Images ] and the Great Barrier Reef and underwater protests in the Maldives [ Images ].