Punjabi gets status of second language in West Bengal

Perneet Singh
Tribune News Service

​
<table align="right" border="0" cellspacing="0" width="280"> <tbody><tr> <td width="100%">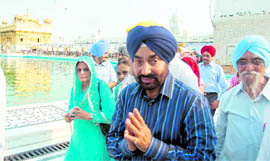 West Bengal Tourism Minister Rachpal Singh at the Golden Temple in Amritsar on Saturday. A Tribune photo
​
</td> </tr> </tbody></table>
Amritsar, May 28
In her very first set of official decisions after taking the charge, West Bengal Chief Minister Mamata Bannerjee has granted Punjabi (Gurmukhi) the status of second language in the state.
West Bengal Tourism Minister Rachpal Singh, who hails from Punjab, revealed this after paying obeisance at the Golden Temple here today. According to him, with this decision those appearing in competitive exams in West Bengal can also opt for Punjabi as a medium of examination.
The minister said they are preparing a list of historic gurdwaras in West Bengal, most of which are associated with Guru Nanak Dev and Guru Teg Bahadur, and will soon start working on their renovation. "We will also ensure that they are brought into the tourism circuit of West Bengal," he averred.
On the recent development vis-à-vis visit of Sikh jathas to Bangladesh gurdwaras, he said they will facilitate the devotees in every way possible, including lodging and boarding in West Bengal, while being en route to Bangladesh.
A former IPS officer, Rachpal Singh said his priority was to showcase West Bengal's tourism, which offers a wide variety ranging from wildlife to religious tourism. He said Bengal has key tourist destinations in the form of Darjeeling, Sunderbans, Plassey, Murshidabad, Terracota temples of Bishnupur and Shanti Niketan. He said the TMC government will make all the efforts to get world heritage site status for Darjeeling, which had faced utter neglect during the previous Left regime. He said the biggest challenge before him would be to make tourism viable for lower middle income groups.
Earlier, Rachpal Singh visited Sri Harmandar Sahib and offered "rumala sahib" on behalf of the new West Bengal CM, besides himself paying his reverence at the shrine.
Mamata had on Thursday announced that Bengal will now have six "second official" languages. English and Bengali are the two official languages of the state. Urdu, Gurmukhi, Nepali, Ol-Chiki, Oriya and Hindi have been added to this list. Out of its total population of nine crore, Bengal has 4 lakh Punjabis.

http://www.tribuneindia.com/2011/20110529/punjab.htm#2
Rajneesh Madhok