Prince Charles to visit Punjab again Today to rekindle hopes of demoralized farmers
October 2, 2010 by Gurpreet Singh Mehak
gurpreetsinghmehak@gmail.com
01 Oct. 2010: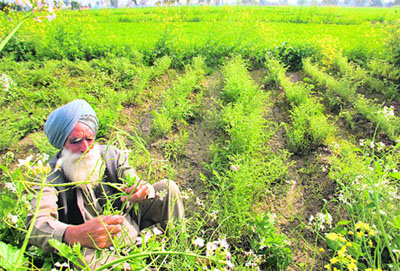 FATEHGARH SAHIB: When Prince Charles had last visited Bhatmajra village of this district in Punjab in March 2006, he had given a dream of organic farming to the farmers but the dream seems turning sore for many progressive farmers who have lost interest due to lack of support from present SAD-BJP government.
Prince Charles is coming again on October 4 at village Hansali in this district to visit the farm house of Sukhchain Singh and give him tips on organic farming. The farmers see the visit of Prince with hope and curiousty.
Daya Kishen a farmer of Bhatmajra village in this district had seen Prince Charles himself sowing '
Moong
' pulse seed in his fields. The then Chief Minister Captain Amarinder Singh had given a grant of Rs.60 lakh to promote organic farming and promised all kind of support. However all dreams of Daya Kishen and many other farmers were shattered after the Parkash Singh Badal governmment took over in 2007.
For Daya Kishen it was life time honour to see Prince Charles sowing '
Moong
' pulse seeds. "Write to me and let me know when they grow and how they have fared. Then we will see what we do with it," he told Daya Krishan as the then Punjab Finance Minister Surinder Singla translated it to illeterate villagers.
When this correspondent Friday visited village Bhatmajra and met Daya Krishen, he informed that he had 13 acres land and started organic farming on 7 acre but after some years later he changed his mind. Daya Krishen said that he had faced various problems during organic farming.
He said there was no proper marketing for organic crop. He said after Prince Charles visit to his village he believed that the royal visit will help build new overseas markets but everything went heywire after Amarinder Singh government was replaced by Akali-BJP government.
"Present government has no idea and vision about organic farming and neither they have any policy on crop diversification. Now I have lost the interest", Daya Kishen said said.
Daya Krishen had now sown fodder on the land where Prince Charles had suggested to start organic farming of pulses. Remembering Prince Charles visit to his vllage , Daya Krishen said wearing a camel-coloured suit and military tie Charles visited some homes and spoke to families of the village. He said Prince Charles also spent some time watching potter Ram Prakash at work. He said they were thrilled at the prince's visit.
During his visit Chalres had planted
neem
sapling in village Panchyat Ghar and visited the Khadi Gram Udyog Centre where he had spent sometime watching women wheel charkha. The visit had proved fruitful for the village. Charles also visited the home of then village Sarpanch.
The villagers rued that they are facing various problems today. There are five panches in village but the government had appointed a administrative as a case of election of Sarpanch is pending in court.
There is incomplete sewerage system laid in the village. Street lights are not functional. The money announced by the government was not properly utilized. The villagers demanded from the government to pay attention towards them.
Today there is no change in the Khadi Gram Udyog outlet being run in the village since 1960 by the Patiala unit of KVIC. When during his last visit to the outlet, a khadi jacket and a natural vegetable oil soap was gifted to Prince.