By now, everyone know that Donald Trump has been elected to serve for the next four years as the next President of the USA. Many of us are concerned about what is going to happen to us Sikhs and the other minorities in this country. Shortly after the election I saw this video. Please take the time to watch it.
.
What this Singh has to say touches a deep chord in me. I had already decided to practice fearlessness and to not reflect the hatred I have seen and heard in the President-elect and his party. You know, ਨਿਰਭਉ ਨਿਰਵੈਰੁ (nirabho, niravair - no fear, no enmity) that all Sikhs are called upon to live. No, it's not easy especially when it's - let's be honest - someone so easy to despise, someone many of us see as a potential Hitler or Indira Gandhi. Spirituality aside, such a negative attitude isn't helpful. We are in a situation now where the future is very murky indeed.
We can realistically expect a rise in hate crimes, directed mostly at Muslims, but also at anyone who looks different, maybe like an immigrant to the majority population. This is not what we have been experiencing in the USA. Up to now, we have been collateral damage in most hate crimes; with few exceptions, Sikhs have not been the targets.
Now, we are likely to be primary targets. But we Sikhs have been in this position many times before - and we've always been able to conduct ourselves with grace and style. Even in the terrible days of 1984 that many of us experienced and all of us know about, we didn't surrender our dignity and our hope. It is not easy, but no one ever has said that being a Sikh is easy.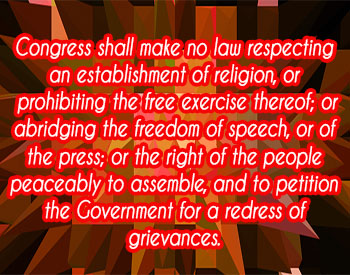 At this time, the population needs to see us as firm and strong, peaceful and loving, standing tall and proud, doing whatever needs to be done with the fearless dignity that has always distinguished us. We need to set an example that others can point to and emulate, calm and considered, loving and unafraid.
I do not mean, in any way, that we should sit back and fatalistically accept the situation.
Frankly, I believe the President-elect's beliefs are fascist and prejudiced and will need to be resisted and fought, I hope with words, and petitions, and peaceful demonstrations, all of these being legal First Amendment Constitutional rights. I believe these will force him to amend the worst of his campaign rhetoric. He has just said that there are some parts of Obamacare that we should keep, a departure from his campaign to repeal the whole Affordable Care Act. I do not expect to see mass deportations or an edict not to let Muslims enter the country. Those things, could happen and, if they do, we will need to be ready with our response.
In the meantime, let us remain in charhdi kala, hope for the best and prepare for the worst.
The picture is of the first article of the USA Bill of Rights, the basis of all the rights we enjoy in this country. I think we need to keep this always in front of Mr. Trump's eye.
In a political oddity in the US Constitution, Hillary Clinton won the election, but Donald Trump won the presidency. This also happened in 2000. Al Gore won the election, but George W. Bush won the White House for the next 8 years, as it turned out. This involves an outdated, in my opinion, institution, the Electoral College, which I won't attempt to explain here. If you're interested, there are plenty of YouTube videos on the subject.
Last edited: